Turks and Caicos
Spas, Fitness, and Wellbeing
It's Easy to Stay Fit in Paradise!
As a luxury tourism destination, the Turks and Caicos offers a great selection of services that cater to personal wellbeing, including spas, massage therapists, yoga and Pilates studios, chiropractors, physiotherapists, and salons.
The island of Providenciales is home to much of the tourism development in the country, and consequently much of the upscale travel amenities and large resorts. Nearly all health and wellbeing practices in the Turks and Caicos are found on the island.
A great aspect of fitness in the Turks and Caicos is our incredible and tranquil environment, and the ability to practice outdoors. Many facilities either have oceanfront locations, or regularly schedule beach classes.
Many of the water sports common in the Turks and Caicos offer great exercise. Stand-up paddleboarding is one of the more popular choices, yet kayaking, open water swimming, and even snorkeling are excellent as well.
Part of the fun of the outdoor sports are the group events, which include open-water swim meets, downwind paddleboard adventures, and road cycling trips on the quiet islands of North Caicos and Middle Caicos.
Sports and fitness instructor in the Turks and Caicos generally have certifications from appropriate internationally recognized organizing bodies, especially in the case of water sports such as freediving, kiteboarding, scuba diving, and swimming.
The trick to keeping fit in the Turks and Caicos is to find a physical activity that's fun, yet provides mental relaxation.
Spas and Masseuses
There's a great selection of spas in the Turks and Caicos. Several small boutique studios are located in the islands, and many of the luxury resorts have their own onsite facilities as well. A few of the larger all-inclusive resorts also feature their own branded international wellness lines, such as Sandal's Beaches Turks and Caicos Red Lane Spa, and COMO Parrot Cay's Shambhala Retreat.
The new leading spa in the Turks and Caicos is MRVL Spa, located in the heart of Grace Bay. The upscale facilities here provide a full range of both traditional treatments and massages, as well as state-of-the-art treatments such as cryotherapy, IV therapy, ultrasonic therapy, infrared sauna treatments, skin microdermabrasion, micro-needling facial treatments, and anti-aging products and therapies.
Spa Tropique, which has several locations on the island of Providenciales, is a popular local spa and has been operating for over 20 years. The spa offers a full menu, from massages, to facials, manicures, waxing, and other beauty treatments.
Yoga and Pilates
Providenciales is home to about a dozen small yoga or Pilates studios, which cater to both visitors and locals alike.
Indoor exercise, cardio, and wellness classes include yoga, Pilates, Zumba, spinning, stretching, aerobics, body conditioning, and more, so there's an option for everyone.
Some luxury accommodations, such as the upscale Beach Enclave villa collections, include complimentary yoga and wellness sessions.
Fitness Centers and Gyms
Providenciales has several fitness centers and gyms, the largest of which is the Graceway Sports Center, which features a full complement of indoor and outdoor facilities, including tennis, complete gym, basketball, squash, and badminton.
Most resorts maintain a small yet select fitness center, with weights and exercise machines, which complements the outdoor water sports equipment well.
Although largely geared towards locals, another option to get in shape fast are boot camps, which are group meets with high intensity training that's designed to help lose weight fast.
Providenciales now has a Crossfit gym! IronShore Crossfit is located at Queens Landing plaza in the Grace Bay area, opposite the Graceway Gourmet supermarket.
Spas and Wellness Centers
Thea Gangasingh is a makeup artist with a knack for realizing a bride's vision or working with her to devise and customize the perfect look for that special day. She specializes in traditional and airbrushed looks for clients of various ages and ethnicities.
Learn More
MRVL Spa is a new state-of-the-art wellness center, located at Grace Bay. Discover a full range of treatments, from massages, facials, and hot stone therapies, to cryotherapy, infrared sauna treatments, skin microdermabrasion, and IV therapies. Exclusive provider of unique Blue Scorpion Peptide products.
Learn More
Sheque Perfection is your premier Turks and Caicos destination events beauty provider. They provide hair and makeup services to brides and celebrities visiting our islands. Also offers concierge services to your hotel or villa. They work closely with resorts, wedding planners and photography companies to make your getting ready experience fun and efficient.
Learn More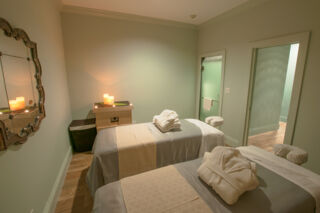 Elevate Spa provides a wide range of services for resort and marina guests at Blue Haven. A wide array of relaxing and invigorating treatments are all available in one of their single or couples' treatment rooms, on board your private boat, or in-room at the resort. Additional services offered are manicures, pedicures and other beauty treatments, such as salt scrubs and cleansing facials.
Learn More
Beauty and the Beach is a day spa located on the Grace Bay within the premises of Maxime Le Salon. Services include waxing, manicures, pedicures and facials by Sothys Paris, and also massage services from their masseuse from the Philippines. Outcall service is offered, offering makeup services to brides and bridal party. Eyelash service is also available along with tinting and perming of lashes.
Learn More