Spas, Salons, Fitness and Wellbeing
Fitness and Gyms
There are plenty of ways to stay fit whilst on vacation in Providenciales. Several gyms and fitness centres located in the tourist areas of Grace Bay and Turtle Cove.
Some hotels and resorts have smaller, in-house fitness centres, and several offer facilities such as tennis courts.
A private rugby pitch is located in the Grace Bay Village site, and a football pitch and the National Stadium are located centrally in the Venetian Road area.
Some businesses offer pilates and yoga directly on the beach, usually in small groups of a few people.
Fitness Sports
Open Water Swimming
In the last few years, a strong open water swim movement has taken hold on Providenciales, and several organized training and competition events take place every year.
Stand Up Paddle Boarding
Stand up paddle boarding, or "SUPing", is an excellent core workout, and the wetland paddling and flat waters of the country are difficult to match in terms of natural beauty.
On breezy days, SUP down-winders are great, as they add an exciting element to the open water distances. During optimal conditions for this activity, little wind waves can be caught and "surfed" for extra speed. Down-winders require a bit of transport organization as downwind travel is only feasible. Transport by vehicle or boat back to the starting point is typically necessary.
Yoga
It's difficult to find a more tranquil setting than one of the spectacular beaches on Providenciales. Several of the local yoga studios offer regularly scheduled classes for all skill levels, both outdoors and inside.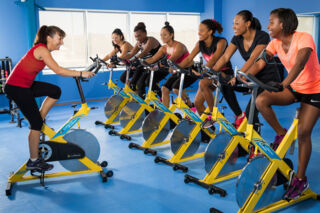 Glow Fitness provides a range of private and semi-private training, from strength training, cardio equipment, TRX and more. Personal training, group fitness classes, yoga (including thai yoga bodywork) are all offered. Sessions can take place at your villa, in our one-on-one studio, and also at the Graceway Sports Centre or Wrightfully Fit Fitness Centre in the heart of Grace Bay.
Learn More
FIT is based at the Graceway Sports Centre and specializes in personal training and running classes. FIT is a versatile company with some of the most reliable and portable fitness equipment on the island from kettlebells to TRX, boxing and boot camp equipment and much more. Personalized sessions are available on the beach, in private gyms or in the comfort of your own home.
Learn More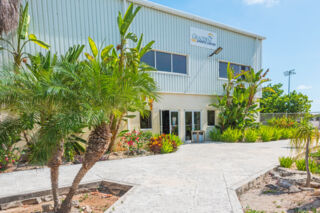 Graceway Sports center offers a gym, classes for fitness, dance and martial arts, and facilities for many different sports including tennis, basketball and squash.
Learn More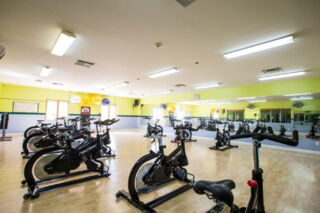 This fully equipped gym and fitness center is centrally located in Turtle Cove. Daily and weekly guest passes available.
Learn More
Spas and Salons
For some, simply relaxing at the world's best beach may not offer quite enough tranquillity and wellbeing. The Turks and Caicos Islands offers a wide arrange of spas offering a numerous list of treatments.
Many of the larger resorts have on-site spas, but there are many independent spas as well. A few businesses provide a mobile service, so if you're staying at a vacation villa, they can come right to you. If you're looking for the ultimate serene setting, a few spas also feature ocean and beachfront facilities.
There's a complete range of amenities to choose from, including cleansing facials, massages, manicures and pedicures, hot stone massages, wax treatments, salt scrubs, and romantic couples massages. Organic products are the typical choice at many of our spas and salons.
Packages
Many spas offer package deals which combine several wellness treatments under one rate. The typical wellness package includes a full body massage, manicure, and facial.
When you book your accommodation, inquire about complimentary spa visits or add-ons, as many of the luxury resorts and villas work with local spa and salon partners.
Reservations and Bookings
We highly advise reserving in advance of expected visit. Many establishments are able to accommodate walk-ins, yet there is no guarantee of availability.
Cancellations made with reasonable notice usually do not incur fees or charges, yet enquire before booking if there is a likelihood of such an event.
As is the case with many accommodations and activities, rates vary a bit according to the time of year, and tend to be highest during the tourism " high season".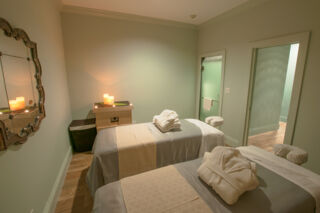 Elevate Spa provides a wide range of services for resort and marina guests at Blue Haven. A wide array of relaxing and invigorating treatments are all available in one of their single or couples' treatment rooms, on board your private boat, or in-room at the resort. Additional services offered are manicures, pedicures and other beauty treatments, such as salt scrubs and cleansing facials.
Learn More
Beauty and the Beach is a day spa located on the Grace Bay within the premises of Maxime Le Salon. Services include waxing, manicures, pedicures and facials by Sothys Paris, and also massage services from their masseuse from the Philippines. Outcall service is offered, offering makeup services to brides and bridal party. Eyelash service is also available along with tinting and perming of lashes.
Learn More
Sheque Perfection is your premier Turks and Caicos destination events beauty provider. They provide hair and makeup services to brides and celebrities visiting our islands. Also offers concierge services to your hotel or villa. They work closely with resorts, wedding planners and photography companies to make your getting ready experience fun and efficient.
Learn More
Thea Gangasingh is a makeup artist with a knack for realising a bride's vision or working with her to devise and customise the perfect look for that special day. She specialises in traditional and airbrushed looks for clients of various ages and ethnicities.
Learn More