Providenciales Hotels and Resorts
Providenciales hosts a wide range of luxury resorts, many of which are located directly on the world famous Grace Bay Beach. There's a perfect choice awaiting, whether you're looking for the extravagance of one of our larger resorts, or the laid-back ambiance of a smaller getaway.
The array of budget options in Turks and Caicos isn't as extensive, yet there are some great choices as well. The best value hotels tend to found a little inland, yet still within easy walking distance of the beach.
Many of the beachfront condominiums also function as a resort. The individual units in the complex may be privately owned, yet they are rented and overseen by resort management. Depending on the complex, the distinctions between a full-service "resort" with housekeeping, and a rental " villa" can be a bit blurred, as in some cases the units are rented by the owner, and guests may not have access to the full range of resort amenities. However, the accommodations shown here tend to have full-time front desk staff and concierge, housekeeping, and onsite restaurants and dining.
Locations
The Turks and Caicos is primarily a beach destination, and almost every hotel and resort on Providenciales is either on or within easy walking distance of an incredible beach. The famous Grace Bay Beach is of course one of the top coasts in the world, yet the island's lesser known beaches likewise offer exquisite white sand and clear turquoise water.
The majority of the island's luxury hotels are located on the consistently-spectacular Grace Bay Beach, or to a lesser extent, the Bight and Turtle Cove areas. These amazing beaches are all part of the Princess Alexandra National Park.
The popular beaches and coasts of Leeward Beach Taylor Bay, Sapodilla Bay, Chalk Sound and Turtle Tail do not have any resorts, and private vacation rentals are the only accommodation choice.
It's important to be aware of what actual beach your prospective accommodation is on or near. Some establishments are quite liberal in their descriptions, stating a Grace Bay location when in reality the famous coast can be miles away. Providenciales boasts of many incredible beaches, some of which offer advantages over Grace Bay, but be aware of what you are paying for.
See Regions of Providenciales for an overview of the island's layout and distances.
Providenciales isn't a very large island, and with the exception of the remote Amanyara Resort and Northwest Point Resort, all resorts and hotels on the island are within a 15 minute drive of the Providenciales International Airport (PLS).
Providenciales isn't the only option for the perfect Turks and Caicos resort. Grand Turk offers several quaint inns and hotels, South Caicos recently welcomed two new luxury resorts, and there are some small accommodations situated on the beautiful landscapes on North Caicos and Middle Caicos.
If you're looking for the height of tranquillity, consider one of the all-inclusive resorts on our boutique islands, such as the Parrot Cay Resort on Parrot Cay, and the Meridian Club on Pine Cay. These unique private island destinations offer luxury and seclusion, and are a favoured retreat for countless celebrities.
The lesser-populated islands in the country exhibit a unique laid-back island atmosphere – an experience rapidly disappearing from the Caribbean. The secluded beaches on our lesser-populated outer islands are paradise – and it's an unforgettable experience to discover them.
Beachfront… or Not?
Our recommendation is that you consider how you'd like to spend your stay. If simply enjoying the beach and pool is your ideal vacation, then definitely look at paying up for the ease and view of beachfront.
On the other hand, if you want to get out to the sights and attractions, lesser-known beaches, take an island day trip or just explore, your dollars may be better spent on car rental and activities.
Due to our small island sizes, all hotels in Turks and Caicos are within walking distance of the beach.
Rates and Special Offers
If you're looking to save on your Turks and Caicos vacation, they are several ways to save.
Special packages occasionally do offer the best rates, but you'll typically get the best price by doing a bit of online research to get a basis on the going rate, and then negotiating directly with the accommodation. This process saves the resort third-party commission fees, which they are happy to share with you.
The time of year definitely affects rates and availability. If you'd like to visit during the " busy season", we advise booking far in advance. Resorts in Turks and Caicos often offer specials during the end of summer "low season", which can be as much as 50% off the winter "high season".
Several of the condominium resorts in the Turks and Caicos have privately owned units, which are rented out for most of the year as short-stay accommodations. These rooms may be overseen and rented either by the resort, or a separate owner or manager. If you do not book through the resort, be sure to inquire what's included with the stay as some amenities and services such as waters sports equipment, complimentary breakfast, or transport may be not be included. Likewise, check-in may not take place at the resort's front desk.
Water Sports Packages
There are some great scuba diving packages offered by local resorts in partnership with a dive shop, and these deals can save quite a bit over booking separately.
Diving enthusiasts should also consider the Club Med Turkoise all-inclusive resort at Grace Bay, which offers great water sports and scuba amenities with most stays.
Avid kiteboarders will likely want to be near the unrivalled kite spot of Long Bay Beach, which is one of the top locations in the Caribbean. There's only one resort on the beach, The Shore Club, yet there's also a great selection of beachfront and inland vacation rentals.
Amenities
Nearly all hotels in Providenciales feature swimming pools and air conditioning, and the majority of rooms also have kitchenettes.
Most Turks and Caicos resorts are family friendly, and many feature kids camps and activities especially geared towards children.
Club Med Turkoise, the oldest Turks and Caicos all-inclusive resort, is the single adults only accommodation in the country.
Many of the larger Turks and Caicos hotels maintain a fleet of non-powered water sports equipment for guests to enjoy, including ocean kayaks, stand up paddle boards, Hobie Cat sailboats, and snorkel gear.
Beaches Turks and Caicos can be a great option for families, and has an unparalleled array of things to do, including a water park, game arcades, and water sports. This resort only offers all-inclusive vacations, with rates to match.
Transport and Walking Distances
Due to the lack of public transportation and the abnormally high cost of taxis, we generally recommend that visitors rent a vehicle for the duration of their stay. However, certain regions are a bit more supportive of pedestrians. Providenciales does not have a city centre. Most tourism-related businesses, such as restaurants and shops, are found on the inland Grace Bay Road.
Grace Bay
As development continues. Central Grace Bay offers an increasing number of restaurants, shops and grocery stores within walking distance of local accommodations. Consequently, it's definitely an option to go without a rental for at least part of your stay.
The Bight
Found to the west of Grace Bay is The Bight. This area is home to a beautiful beach, a snorkelling reef, and both resorts and rental villas.
Unfortunately, stores and dining are generally a bit too spread out to be pleasant for walking.
Turtle Cove
Several places to stay are found at or near Turtle Cove. Albeit much smaller than Grace Bay, restaurants and limited shopping is located around the marina enclave.
Although the nearby beach isn't quite up to the standards of the island's top coasts, the island's best accessible shore snorkelling is at the adjacent Smith's Reef.
Government Tax
A 12% government tax is applied on top of rates.
All other taxes and fees, including "city tax", are not government sanctioned.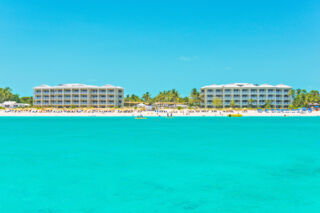 The tranquil Alexandra Resort is centrally located on the beautiful Grace Bay Beach on Providenciales. Choose from studios, 1, 2, and 4 bedroom suites. There's a wide range of complimentary water sports and luxury amenities for the perfect stay.
Learn More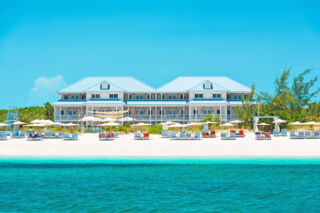 Beach House Turks and Caicos
21 luxury suites are situated right on the western end of Grace Bay Beach. Complimentary kayaks, paddle boarding, and Hobi-cats are included.
Learn More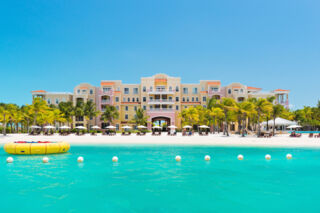 Blue Haven Resort and Marina is a new luxury property located on the tranquil leeward side of Providenciales. Blue Haven is the first and only resort and marina in the Turks and Caicos Islands.
Learn More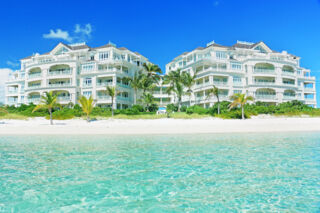 The luxury Shore Club is one of the island's newest resorts and is found on the tranquil Long Bay. This beachfront site features three restaurants, a spa, boutique shops and four pools.
Learn More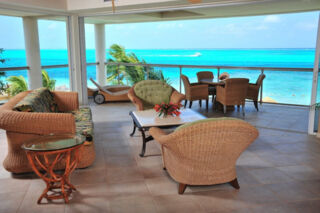 Coral Gardens Resort is located at the Bight Reef, which is one of the finest beach snorkelling sites on Providenciales. This luxury resort offers one, two and three bedroom suites, and has two pools and a fitness centre.
Learn More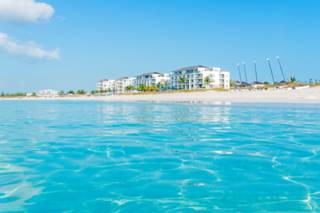 Gansevoort Turks and Caicos offers a luxury beachfront resort on beautiful Bight Beach on Providenciales. There's a wide selection of amenities to be enjoyed, including an infinity pool, a restaurant and bar, an onsite spa, and non-powered water sport equipment.
Learn More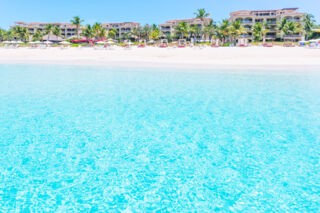 The expansive Grace Bay Club is found on the centre of the world-famous Grace Bay Beach. Learn about accommodations, dining and amenities of this luxury resort.
Learn More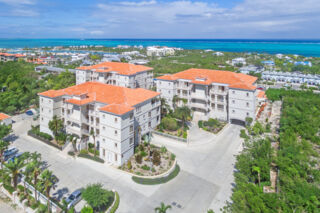 This resort is found on ridge in the Turtle Cove area of Providenciales and offers great views over the northern barrier reef and Grace Bay. The incredible snorkelling site of Smith's Reef is within walking distance, as are the restaurants and shops of Turtle Cove Marina.
Learn More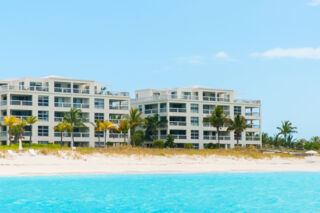 22 luxury Italian-designed condominium suites on Grace Bay. Two and three bedroom all-ocean front suites available.
Learn More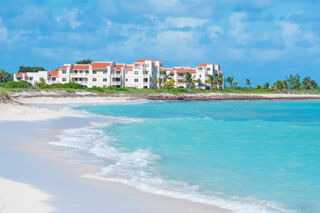 Northwest Point Resort located at Turks and Caicos offers one, two and three bedroom resort condos that are spacious bright and cheerful with tasteful furnishings and décor.
Learn More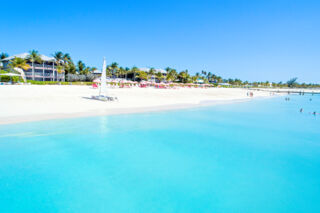 Not to be confused with its Ocean Club West sister resort, Ocean Club is a beachfront resort with a relaxed atmosphere. Choose from single bedroom studios, and one, two and three bedroom suites. A shuttle provides complimentary transport between both Ocean Club resorts, and guests are welcome to enjoy many of the amenities of the sister site.
Learn More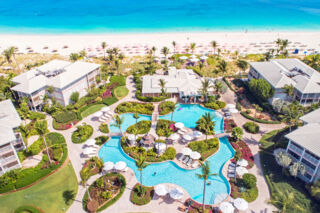 The sequel to the original Ocean Club, Ocean Club west is located closer to the centre of Grace Bay.
Learn More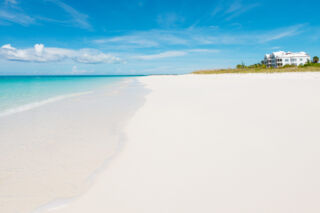 The tranquil Point Grace Resort offers 28 rooms, with one, two, three, and four bedroom suite options. Onsite is the quaint and exclusive Grace's Cottage restaurant, and the Thalasso Spa.
Learn More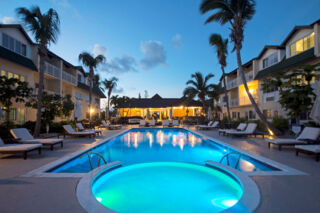 This trendy and newly-renovated hotel is located in central Grace Bay, within a short walk to Grace Bay Beach. Rates include breakfast, free WiFi throughout the hotel and complimentary paddle boards. The Ports of Call shopping plaza is located adjacent.
Learn More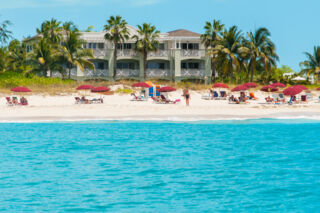 Located on the beach in Grace Bay . One, two and three bedroom units available.
Learn More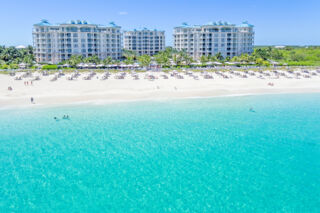 The expansive and luxurious Seven Stars Resort is located on central Grace Bay Beach and features 115 exclusive suites. In addition to the spectacular beach, there's a beautiful mosaic pool, two gourmet restaurants, and a full featured spa.
Learn More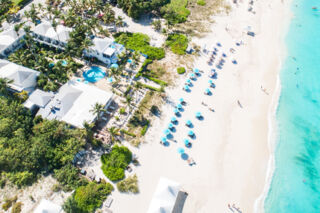 This small resort in Grace Bay offers the best rates of any of the beachfront accommodations. Onsite is the highly rated Bay Bistro restaurant.
Learn More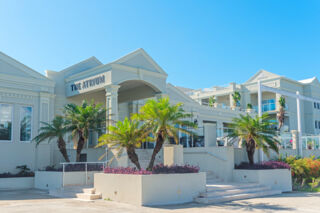 The Atrium is a quiet condo resort in the Leeward area of Providenciales. This contemporary lodging offers a beautiful free-form pool, and suites with one, two, and three bedrooms. The incredible Leeward Beach is a five minute walk away.
Learn More
This great value resort is located near the great snorkelling site of the Bight Reef. There are one, two, and three bedroom suites, as well as a spa, fitness room, and free-form pool.
Learn More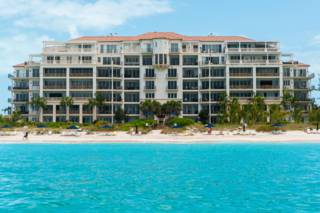 This beachfront luxury resort offers one, two and three bedroom suites. Included in the rate is free unlimited golf at the Provo Golf Club.
Learn More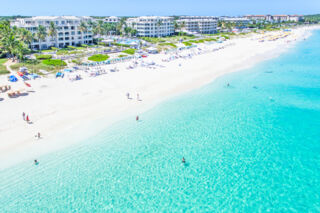 The Palms Turks and Caicos is an exquisite 72 suite resort located directly on a prime stretch of Grace Bay Beach. Choose from one, two, and three bedroom units. This premier resort features two restaurants, a bar, a spa, and fitness centre.
Learn More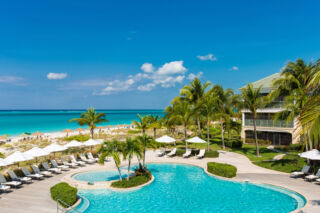 The 114 suite Sands Resort is found on Grace Bay Beach and features one, two and three bed rooms. Onsite are three free-form swimming pools, a spa, fitness centre, and the popular Hemingway's Restaurant.
Learn More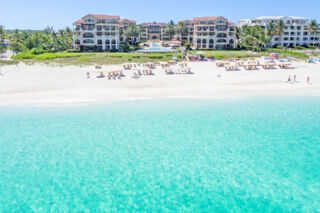 The Somerset is a contemporary luxury resort on Grace Bay Beach. This accommodation features expansive and beautifully-furnished villa suites, with one, two, three and five bedroom options.
Learn More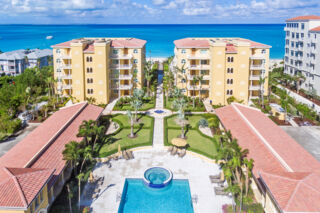 The luxurious Tuscany Resort is found on the tranquil eastern side of Grace Bay Beach. This retreat offers one, two, and three bedroom accommodations, and expansive pool, and a spectacular beachfront location.
Learn More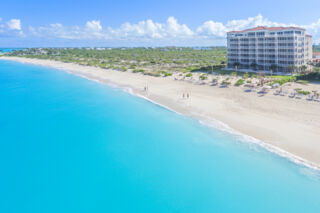 The luxury Venetian is a beachfront Grace Bay resort that features one, two and three bedroom oceanfront suites. Amenities include a beautiful swimming pool, a wide selection of water sports, a Jacuzzi, and tennis courts.
Learn More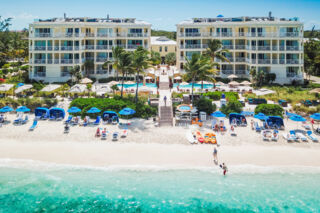 The Windsong Resort is located at the western end of Grace Bay Beach and near the Bight Reef snorkelling site. Enjoy a great beach and ocean views, the onsite Dune restaurant or Drift Spa, and a plethora of water sports. Select from one, two, three, or four bed rooms.
Learn More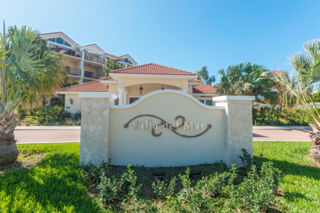 Villa Del Mar is a condo resort that's located quite close to Grace Bay Beach. Accommodation options include a studio, and one, two, and three bedroom suites, complete with fully-equipped kitchens and modern comfortable furnishings. The spacious pool and garden is a perfect place to relax.
Learn More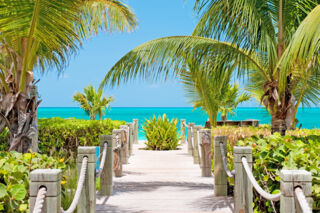 Villa Renaissance is a 36 unit luxury accommodation on the pristine Grace Bay Beach. There's a wide range of amenities onsite, and the shopping and dining of Grace Bay is only a short walk away.
Learn More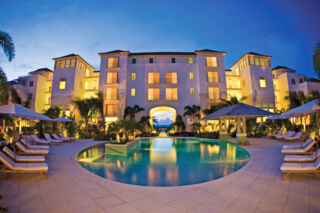 West Bay Club is located on the Bight Beach, within easy walking distance of excellent snorkeling at the Bight Reef.
Learn More