Providenciales Hotels, Resorts and Villas
What Type of Accommodation is Best for You?
There are three basic types of accommodations offered on Providenciales: Resorts and hotels, all-inclusive resorts, and rental villas and guesthouses.
The traditional hotel and resort is the most popular option on the island. Resorts tend to be found in the best locations, and complimentary usage of non-powered water sport equipment such as Hobie-Cat sailboats, kayaks and paddle boards is often included for guests.
Many of the larger hotels and all-inclusive resorts also feature a spa, multiple swimming pools, restaurants and bars. In addition, many hotels and resorts include a gym or fitness centre, although the amenities offered vary greatly. A few of the Grace Bay resorts include package deals including tee time at the Provo Golf Club.
Most resorts do not offer a shuttle from the airport, and the majority of guests without a rental car typically take a taxi. Taxis are generally readily available, even during peak times when there may quite a few flights arriving.
If you want to simply relax and not have to worry about transport, finding out where to dine, and what to do, an all-inclusive resort may be the best choice for your stay. There are three such resorts on Providenciales, each with different price ranges.
Villas typically offer more privacy and space than resorts do, and per-person rates can be better for larger groups. Some of the boutique villas are located at perfect spots for water sports and outdoor activities such as snorkelling ( Smith's Reef and Turtle Cove), and kayaking and paddle boarding ( Leeward Channel and Chalk Sound). Many of the vacation rentals are fully equipped with a pool, full kitchen, laundry facilities, and BBQ grill.
The expansive Beaches Turks and Caicos all-inclusive resort can be a great choice for those visiting with children as the site features an impressive collection of activities and attractions, including a water park, several pools, water sports amenities, a kid's camp, and Sesame Street themed entertainment.
Other Islands in the Turks and Caicos
There are several inhabited islands in the Turks and Caicos, and each offers a unique aspect and atmosphere.
If you'd like a more laid-back or Old Caribbean experience, are interested in historical and natural attractions, or like to hike, one of our other islands may be a better destination for you than Providenciales.
Parrot Cay and Pine Cay, two private islands found near Providenciales, each feature a single exclusive resort and a small yet select collection of luxury rental villas. These two islands are popular with celebrities, and offer a laid-back and elegant ambiance.
How to Get the Best Rates
You'll often get the best rates by directly contacting the accommodation. You should definitely do a little research online beforehand so as to have an idea of the going rates, but if possible, talk to the accommodation's manager. Booking reservations in this way can be a great deal for everyone. The lodging or villa doesn't have to pay listing or third-party finder's fees, and they're often happy to pass some of the savings onto you.
Like many vacation destinations, the Turks and Caicos experiences high and low seasons throughout the year. Rates during the winter months and around holidays can be as much as 25% to 60% higher than in the fall or late summer.
Accommodation in the Turks and Caicos and in the Caribbean in general tends to be more expensive than what equivalent-quality rooms in the United States typically cost. Prices per night range from around $150 to over $1000 for many hotels and resorts. Private villas are generally rented by the week (negotiable), and range from $1200 to well over $100,000. Many villas feature multiple bedrooms, and may offer a better rate per bed than other accommodations for groups and families. As nearly all tourism development in Providenciales is modern, rooms are generally quite spacious.
When booking, be aware that there is a 12% Government accommodation tax on top of all rates, and there may be additional charges. This is sometimes stated as being included in the price, and hotel rates on sites such as Booking.com include this. However, prices quoted on villas sites typically exclude this tax.
Beach front resorts and villas command premium pricing. You're typically able to save quite a bit if you're willing to drive or walk a short distance to the ocean.
Having a flexible travel schedule will also help to get the best deals. Accommodations and airlines want to make the most off their products, and reservation rates for near-term vacancies is typically 25%-50% off, especially during the low season.
When considering a condominium and before you book, be sure to confirm what amenities and extras are included with your reservation. In some cases, booking through the condo's "resort" management will allow access to a greater range of amenities than booking with an individual unit's owner. This fact aside, booking a condo directly with the owner is often the least expensive way to get a spacious room directly on Grace Bay.
Package Deals
Vacation packages, typically pairing airfare and accommodation, can offer savings. However, with a little work, it's often possible to find equal or better prices with a little online searching.
If you're looking to spend the majority of your trip on a certain water sport such as diving or kiteboarding, one of the activity-specific travel packages offered by local companies should definitely be considered. In the case of kiteboarding, a specific package will often include amenities such as a lodging near the prime kite spot of Long Bay, transport options, and easy access to local kiteboarding support, lessons and information.
Many accommodations offer special wedding and honeymoon packages as well, which include rooms, catering for events, and wedding planning services.
Family Friendly Hotels
Unlike some other Caribbean destinations, nearly all resorts and hotels in Providenciales welcome families and children, and typically feature a range of kid and family activities, as well as day care services.
Outdoor and eco camps are offered by many resorts and are a fun way for kids to experience the marine environment and wetlands of the Turks and Caicos. These adventures include journeys by kayak or paddle board through mangrove channels, turtle tagging, and nature hikes.
No discussion of Turks and Caicos family resorts would be complete without mention of Beaches Turks and Caicos at Grace Bay, which property features water parks, game arcades, live entertainment, and even kid-friendly restaurants.
Long-term and Apartment Rentals
The Turks and Caicos typically grants 90 day visitor visas, however this can usually be extended if desired.
If you're looking to spend an extended period of time in the country, it makes sense financially to look for a long-term rental. Monthly rentals of inland condominium suites and apartments can be had for around half the price of short-term vacation rentals.
Outside of the high season, long-term arrangements can often be made for lodgings that typically rent as short-term holiday accommodations.
What Location?
Providenciales is a relatively small island, but even as such there are several distinct regions on the island. Check out our island map for an overview of the layout and distances.
You should consider your transport options. Central Grace Bay is the only region where you'll easily be able to walk to stores, restaurants and other necessary businesses. If you stay elsewhere, you'll likely need either a rental vehicle or taxis.
Grace Bay
Grace Bay is the centre for resorts, fine dining and tourism oriented shopping on Providenciales. The 5 miles (8.0 kilometres) Grace Bay Beach here is of course unparalleled. Many of the country's largest resorts are found on this exquisite beach, including the Grace Bay Club Resort, the first luxury hotel to be built on Providenciales.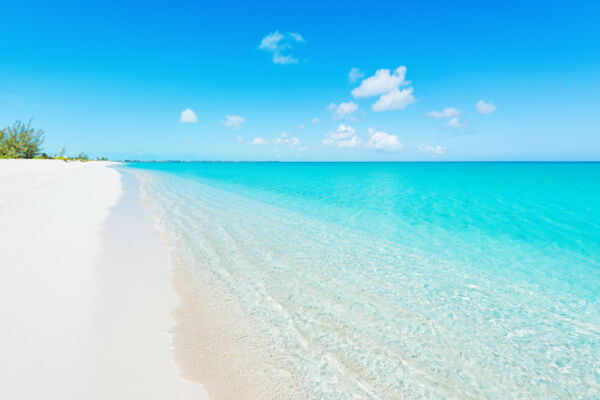 Leeward
Found on the northeast point of Providenciales, the largely residential Leeward area offers beaches that are almost up to the calibre of Grace Bay, but tends to be a bit quieter. Many villas are found here and it's a very short drive to the amenities and businesses of Grace Bay.
Turtle Tail
The Turtle Tail and Venetian Roads region is found off the central south side of the island. As the area is a peninsula separated from the interior of Providenciales by scenic shallow wetland ponds, a single paved and highly scenic road leads into this region, and it can be more than a 4 miles (6.4 kilometres) drive to some of the villas here. Much of the coastline here that fronts the ocean consists of low limestone cliffs, but quite a few small and romantic beaches can be found.
Turtle Cove and Smith's Reef
Located conveniently in the centre of the island, Turtle Cove is adjacent to the excellent snorkelling of Smith's Reef. Along with several restaurants, Turtle Cove Marina is found here. If you have a rental vehicle, Grace Bay and the main supermarkets on Providenciales are within easy access.
Chalk Sound, Sapodilla Bay, and Taylor Bay
The Chalk Sound area is home to the majority of rental villas on the island. Along with the brilliant Chalk Sound National Park, the beautiful and peaceful Sapodilla Bay and Taylor Bay beaches are found here. It's a 3 miles (4.8 kilometres) drive from Chalk Sound through an industrial area get to Downtown Providenciales, and from there it's an additional 6 miles (9.7 kilometres) to Grace Bay. Only a few restaurants and small shops are located around here.
Long Bay
Long Bay offers a great beach (the best in the country for kiteboarding) yet remains relatively quiet and secluded. No restaurants or shops are found here, so you'll have to make the short drive over to Grace Bay. Be aware that some of the interior Long Bay Hills villas can be located almost 1 mile (1.6 kilometres) from the beach.
Blue Mountain and Babalua Beach
Home to the highest point on Providenciales, the small community of Blue Mountain offers a range of private vacation villas. Blue Mountain is fronted by Babalua Beach, and both areas offer a spectacular view over the north coast and barrier reef.
Thompson's Cove
Thompson's Cove is found between Blue Mountain and Blue Hills, and a few lodgings are found in this tranquil residential neighbourhood. Although centrally located and oceanfront, beach accesses and overall coast quality here isn't great.
Popular Providenciales Hotels and Resorts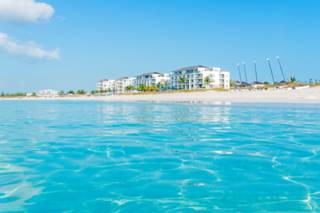 Gansevoort Turks and Caicos offers a luxury beachfront resort on beautiful Bight Beach on Providenciales. There's a wide selection of amenities to be enjoyed, including an infinity pool, a restaurant and bar, an onsite spa, and non-powered water sport equipment.
Learn More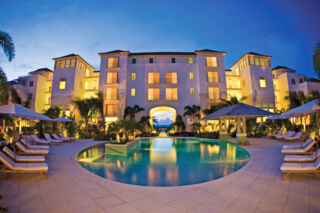 West Bay Club is located on the Bight Beach, within easy walking distance of excellent snorkeling at the Bight Reef.
Learn More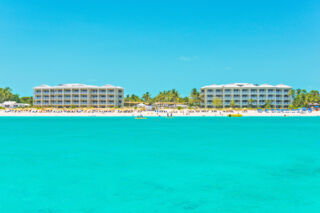 The tranquil Alexandra Resort is centrally located on the beautiful Grace Bay Beach on Providenciales. Choose from studios, 1, 2, and 4 bedroom suites. There's a wide range of complimentary water sports and luxury amenities for the perfect stay.
Learn More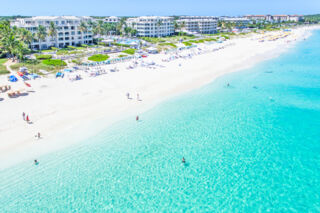 The Palms Turks and Caicos is an exquisite 72 suite resort located directly on a prime stretch of Grace Bay Beach. Choose from one, two, and three bedroom units. This premier resort features two restaurants, a bar, a spa, and fitness centre.
Learn More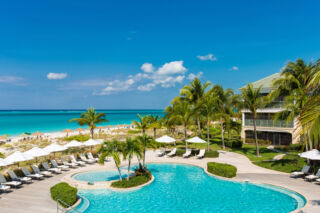 The 114 suite Sands Resort is found on Grace Bay Beach and features one, two and three bed rooms. Onsite are three free-form swimming pools, a spa, fitness centre, and the popular Hemingway's Restaurant.
Learn More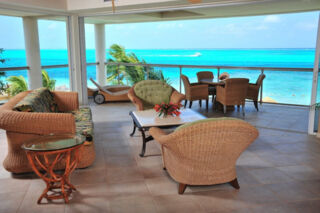 Coral Gardens Resort is located at the Bight Reef, which is one of the finest beach snorkelling sites on Providenciales. This luxury resort offers one, two and three bedroom suites, and has two pools and a fitness centre.
Learn More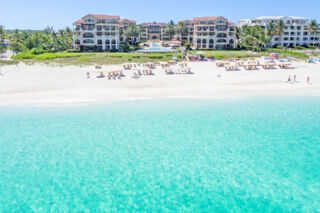 The Somerset is a contemporary luxury resort on Grace Bay Beach. This accommodation features expansive and beautifully-furnished villa suites, with one, two, three and five bedroom options.
Learn More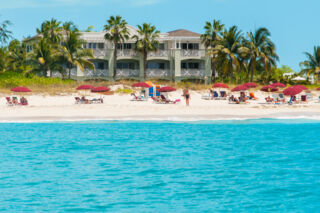 Located on the beach in Grace Bay . One, two and three bedroom units available.
Learn More
Grace Bay Resorts Map