Turks and Caicos
Wedding & Honeymoon Resorts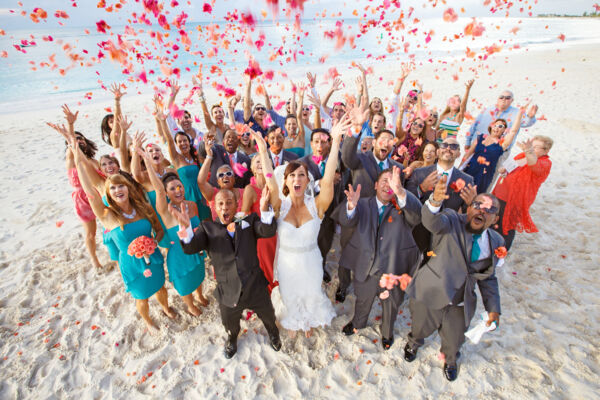 The Turks and Caicos is an incredible tropical destination, and there's a great collection of romantic resorts that are perfect for a wedding or honeymoon.
One of the best reasons to choose the Turks and Caicos over other tropical luxury honeymoon destinations such as the Bahamas, Barbados, and Jamaica is simply the quality of our gorgeous beaches. We have so many exceptional beaches and uninhabited cays, all pristine and uncrowded, and yours to explore and enjoy.
Depending on preference, most resorts are typically able to host the wedding ceremony on the beach, in an outdoor courtyard or garden setting, or indoors.
Check out Top 10 beaches in the Turks and Caicos for great information on possible coasts for ceremonies and photo shoots, and Best Things to Do and Best Attractions for activity ideas.

Point Grace
The elegant Point Grace resort is located on a quiet yet centrally-located stretch of Grace Bay Beach. This picturesque and romantic retreat offers a classic Caribbean resort atmosphere, without the hustle and bustle of the larger resorts.
Point Grace features 28 rooms and penthouses, the Grace's Cottage restaurant, and a spa. Keeping with its graceful image, the resort maintains a classic 1958 Rolls Royce Silver Cloud car for VIP transport.
The resort offers wedding and honeymoon packages, and is happy to help plan your special day.

The Shore Club
The Shore Club resort on the turquoise waters of Long Bay Beach on Providenciales is one of the country's newer luxury retreats, and offers beautiful rooms and villas, several dining and bar options, a spa, a few great event venues, and four beautiful pools.
The Shore Club is part of the Hartling Group of resorts, which is represented by an extensive local professional team, including event planners and a great range of catering, butler, and florist support.

Amanyara
The exclusive and luxury Amanyara is found on the remote and highly scenic Northwest Point Marine National Park on the west coast of Providenciales.
This resort is part of the international Aman group, and Amanyara keeps with their theme of a luxurious low key atmosphere that fosters wellbeing. On site are restaurants, a spa, exceptional service, and great outdoor amenities, completed by a serene natural ambiance.
The professional team at Amanyara is happy to help plan the perfect bespoke event.

Grace Bay Club
Grace Bay Club is one of the oldest luxury resorts in the Turks and Caicos. Today this exquisite resort has expanded from the original boutique hotel to a collection of three resort enclaves, three restaurants, two bars, a spa, and several pools.
Wedding packages can accommodate groups from just the couple to 120 guests, and the resort's event planners will help to arrange every aspect of the special day.

Seven Stars
The eye-catching Seven Stars resort is located on a central and prime stretch of Grace Bay Beach. This 115 room hotel brings together elegance and amenities. The resort features an amazing pool, two restaurants, and a great complement of things to do.
Seven Stars coordinates custom wedding packages, which may include everything from catering and beverages, to helping with the licenses and officiation.
Beach House
The small and exclusive Beach House is an adult-only resort located at the tranquil Bight Beach on the west side of Grace Bay. This boutique luxury hotel is a great location for those seeking a quiet and sophisticated atmosphere.
The Beach House is part of the Turks and Caicos Collection, which includes Blue Haven Resort and Alexandra Resort, and brings together a wealth of shared amenities, services, and staff.
Onsite at Beach House are several dining and bar options, Elevate Spa, and a great complement of amenities. The resort offers wedding packages, which includes the ceremony and officiant, music, photography services, décor, catering and a wedding cake, and more.

Parrot Cay Resort
The exclusive COMO Parrot Cay Resort, located on the private island of Parrot Cay, is another beautiful location for a wedding, and was in fact the site of several celebrity weddings.
Parrot Cay has long been a retreat for the rich and famous, starting with Count and Countess Czernin in the 1950s. Like its neighboring cays, Parrot Cay boasts of a spectacular beach on its north coast.
Parrot Cay resort amenities include a spa, yoga retreat, two gourmet restaurants, and a great collection of water sports equipment. The resort is accustomed to catering and fine dining; from large events to a romantic couple's dinner on the beach.

The Meridian Club
The exquisitely-situated Meridian Club is often overlooked, largely due to its location on the private islands of Pine Cay. This small yet select resort stands on one of the finest stretches of beach in the Turks and Caicos, with perfect white sand, calm turquoise water, and absolutely no crowds.
The Meridian Club's beach is truly special. The sand bar systems near Fort George Cay are off the north-eastern side of the island, and to the west, Pine Cay is connected by a continuous beach to Water Cay, Half Moon Bay, and Little Water Cay.
Pine Cay is a quick hop by boat from Providenciales, and the Hemmingwayesque atmosphere of life on the island is something that's now quite rare throughout the globe.
Accommodation options on the island include the small luxury resort itself, and the many quaint vacation rentals dotted around the cay.
The Meridian Club can help to arrange all aspects of the wedding, from catering, to the ceremony and photography.

The Palms
The premiere Palms on Grace Bay Beach is another great wedding option, with a great beach location and beautiful resort grounds.
The Palms is well-versed in event hosting, with professional staff, a great range of indoor and outdoor venues, gourmet dining and catering options, and access to a full complement of support services such as photographers, designers, and florists.

Beaches Turks and Caicos
The expansive Beaches Turks and Caicos all-inclusive resort can be a great wedding option when families and kids are attending. The resort features an incredible selection of things to do and dining options.
Beaches Turks and Caicos is part of the international Sandals resort group, which is certainly no newcomer to creating amazing Caribbean weddings and honeymoons, and offers a full complement of packages for wedding and vow renewals. The resort has many options, to allow the bride and groom to carefully tailor the décor, dining, music, ceremony, and guest activities of their wedding in the Turks and Caicos.

Luxury Vacation Villas
Another option for a destination wedding in the Turks and Caicos is one of our larger luxury villa rentals. There's a great collection of beachfront options to choose from, including smaller and secluded rentals, to expansive 10 bedroom mansions, which can cater to large family or group of friends.
Villas can be a good choice for those wanting to get more involved in the planning and overseeing of all details of their event. The local professional wedding planners are also happy to work at vacation rentals as well.

The Best Things to Do and Activities
In addition to some incredible honeymoon resorts, the Turks and Caicos offers some must-do activities, most of which involve our spectacular beaches and ocean. A top thing to do is to take a boat charter or cruise, and we suggest that a minimum of two: a half day or full day beach hopping and snorkeling adventure, and an evening sunset sail. Both private and public excursions are available, yet a private trip is recommended.
A dedicated snorkeling or scuba diving excursion is also not to be missed. Many of the cruises include some snorkeling, yet the best reefs tend to be a little further out, at locations such as West Caicos and Northwest Point. The clarity and vivid blue of the sea at these remote sites is unforgettable, and there are coastal caves and cliff jumping spots, too.
A couple's spa or wellness treatment is another recommendation. There are several great independent spas in the Turks and Caicos, yet inquire with your resort or hotel when you book, as there may be inclusions.
Day trips to our quiet and friendly outer islands are also not to be missed. Great choices include North Caicos and Middle Caicos, which are a scenic 30 minute ferry ride away, and South Caicos, Salt Cay, and Grand Turk, which are short plane hops away. All four destinations offer a unique and beautiful experience. North and Middle Caicos are a nature lover's paradise, South Caicos is laid-back with wild landscapes and a quaint fishing culture, and Salt Cay and Grand Turk feature interesting historical elements.
Last reviewed by an editor on 21 April 2021.