Turks and Caicos
Wedding DJs, Musicians, & Bands
Once you've decided to get married, you'll want to make sure that everything goes just right. That includes selecting the perfect DJ or band. The music and sound style sets the stage for your event, so you'll want to select one you can easily work with and who understands exactly what effect you'd like.
The Turks and Caicos has several options when it comes to event music. There are many local DJs, and several great musicians and bands to choose from, which largely cater to weddings, parties, and the growing luxury tourism market.
DJ or Live Band?
The big question is: DJ, or live music?
As may be expected, DJs tend to be less expensive than a band, and there is consequently greater demand and a wider selection of choices in the Turks and Caicos.
Nevertheless, there's still a great selection of live music options, with genres ranging from quintessential pop and rock, to the contemporary Caribbean and Reggae styles common throughout the region. There are both bands and solo musicians, and instruments may include everything from guitars and drums to keyboards and the unique local ripsaw.
For those looking for a more classical feel, there are several skilled professional solo violinists, pianists, and saxophonists, which offer a different or more romantic atmosphere.
Turks and Caicos Musicians
Lovey Forbes, a native of the Garden Island of North Caicos, is one of the best-known performers in the country. His genre is often termed as authentic Turks and Caicos, which is a style that's partially been inspired by Bahamian music, from the neighboring island to the north.
Sally Greenwood is a popular local vocalist, guitarist, and songwriter, who is based on the island of Providenciales. She plays a range of genres that includes pop, rock, and blues.
Jervon Laporte is the best-known saxophonist in the Turks and Caicos, and plays at upscale events and gatherings at resorts and venues across the country.
Sound and Stage Equipment
DJs can often serve as the master of ceremony at events if required, and also typically maintain a collection of sound equipment and speakers for events. In the cases where they don't have the necessary equipment, they're often able to arrange what's needed.
The beach, sand, and marine environment are not very forgiving to sensitive sound and electronic equipment, so there's often a setup fee that covers transport, stands, and outdoor elemental protection.
Many of the larger hotels and resorts have conference and event halls, which often have convenient incorporated sound systems.
Reservations and Planning
A major consideration when booking a vacation or event in the Turks and Caicos is the 'high season'. Our islands have predictable fluctuations in tourist arrivals throughout the year, with the winter months seeing the peak. Availability of accommodations, charters, and event services can be limited during the high season.
Planning a destination wedding is a significant undertaking, so it may make sense to work with a local wedding planner. Wedding planners have a great range of contacts across the industry, and can be invaluable in arranging everything from the reception to the photography. The local companies typically offer a range of packages, which can save over booking everything independently.
Many local DJs and island musicians have regular commitments on nights throughout the week at various luxury resorts and nightclubs, yet they may be able to arrange a substitute if needed. As is the case with scheduling the other aspects of your important day, advance notice and planning is recommended.
Turks and Caicos DJs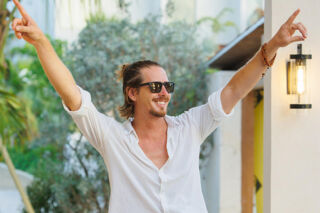 Deciding on a DJ for your wedding can feel just as important as choosing the right groom! The right DJ can make or break your perfect day and we understand this better than most. To us, it's about creating the right vibe for each individual couple, about filling the day with a soundtrack that characterizes you: one that will melt hearts, raise glasses and even get your granny on the dance-floor!