Entertainment, Casinos and Nightlife
Providenciales is not a good destination for nightlife or gambling. We don't have any nightclubs and one casino. If this is important to you, we would suggest you check out Las Vegas. You'll get double or triple value on accommodation and airfares will probably be half (doesn't matter where you're flying from). This is beacuse of a little known fact that Las Vegas casinos subsidise flights to their city. No one subsidizes flights to Providenciales.
Nightlife
There isn't much nightlife on Providenciales, apart from bars. Gansevoort, located in The Bight area of Providenciales (out of walking distance from the Grace Bay area, but a short taxi ride away), has disco night every Thursday. Several other bars, such as Danny Buoy's, hold weekly karaoke, quiz, and other events.
Casinos and Gambling
Unfortunately, gambling is legal in the Turks and Caicos Islands. However, this is a relatively small industry with only one local casino operating (as of 2013). Prior to 2007, residants were barred from gambling, but the law was changed to allow those earning more than $50,000 to gamble.
History of Gambling in the Turks and Caicos
The Turks and Caicos has the dubious honour of being the birthplace of internet casinos. In 1995, Internet Casinos Inc. launched the world's first online casino, with 16 different games and even access to the Indian National Lottery. However, other countries soon passed laws legalizing online gaming and as of today no online casinos are based in the Turks and Caicos.
Providenciales is the only island with a full casino, but other islands offer slot machines at some local bars. The first casino, Casablanca, opened in the early 90's and is the only casino still operating in the country. The Players Club was a short lived casino and poker club that was shut down in 2009 due to failure to pay government licences and fees.
Several bars catering to the local market on Providenciales feature slot machines, but these are generally out of the tourist areas.
Poker is a popular local form of gambling (no, POKER IS NOT A SPORT), and there is the annual Turks and Caicos Islands International Poker Tournmanet held at local resorts.
The Lottery
In 2005 a private company was authorized to operate a lottery, with a portion of proceeds benefiting local cultural, sporting, and educational programmes. Many agents selling scratchcards are located across Providenciales, including in the Grace Bay area.
Culture and the Arts
Providenciales and the rest of the Turks and Caicos Islands lack a strong arts and cultural 'scene'. There are no art museums, few plays, and a general lack of 'cultural events'.
Cinemas
In the past, there were two cinemas on Providenciales. 'Village Cinema', located near Venetian Road, shut-down after a fire. This was followed by TCI Cinemas (later renamed 'L-Raye Cinema'), but closed-down in 2014, presumably due to lack of an audience and competition from Netflix and other streaming services.
In addition, several hotels such as Blue Haven Resort started offering movie nights, sometimes right on the beach.
Theatre
The local Turks and Caicos Islands Friends of the Arts Foundation produces several plays and musicals a year. Tickets are generally reasonably priced and takes place at Brayton Hall, a purpose built venue at the local British West Indies Collegiate high school. You can purchase tickets at the Unicorn Bookstore (near IGA supermarket).
Visit their site for a programme schedule and information on buying tickets.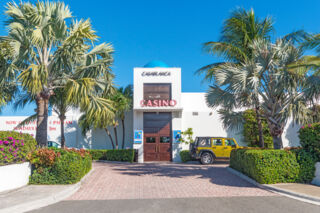 Casablanca is the island's oldest casino and is found in the heart of the Grace Bay Region. Choose from slot machines, blackjack, poker and roulette.
Learn More