Turks and Caicos
Beach Rentals
When relaxing at one of the spectacular beaches in the Turks and Caicos, it's great to have beach amenities such as umbrellas, loungers, coolers, and more.
Most of the resorts on Grace Bay provide a wide range of beach necessities for guests staying at their resorts, yet visitors staying elsewhere on the island may not be so lucky.
Many vacation rental villas have basic beach accessories for guests to use, which may include towels, the quintessential beach umbrella, small coolers, snorkel gear, and toys and floats.
If your accommodation doesn't have the right beach amenity or accessory, it's typically possible to rent what is required from a local business, which usually includes delivery. In addition to the basic chair, lounger, umbrella, snorkel gear, and cooler, options include sun shades and giant stylized inflatable floats of flamingos, food, swans, and more, which are very popular for Instagram photos!
Chair and Lounger Rentals at the Beach
Several beach rental businesses operate directly on the beach, where it's possible to simply walk up and rent a beach lounger and umbrella for the day. Such services are often offered at the Bight Reef, the Grace Bay Beach access near the Seven Stars Resort, and the Stubb's Point (also known as Pelican Beach) access at Leeward Beach.
Rent… Or Purchase?
Before arriving in the Turks and Caicos it makes sense to bring some essentials with you, as local prices are often higher than what you'd pay back home. It's convenient to have a collapsible soft cooler, and a decent snorkel set that's your own is also best. See What to Bring to the Turks and Caicos.
On the main tourism island of Providenciales, it's not too difficult to find everything you'd need for the beach. Shops such as the Blue Surf Shop and Dive Provo have a great selection of swimwear and snorkel gear, and Graceway Gourmet and Do It Best have beach toys, coolers, towels, umbrellas, and basic beach chairs.
Kayak and Paddleboard Rentals
For guests staying at one of the oceanfront vacation rentals in the Turks and Caicos, another option is to rent kayaks, paddleboards, or kiteboarding equipment for a few days, and have it delivered to the accommodation.
The water sports equipment is usually provided with all accessories needed, and a short introduction on use is also typically offered.
The Big Blue Collective, the nation's largest eco-tour operator, has the largest selection of equipment, including touring kayaks, which are great for navigating longer distances. They also maintain a fleet of several types of quality stand-up paddleboards, kiteboarding equipment, and scuba diving and snorkel gear.
Inflatable Beach and Party Attractions
An option for special events and parties is the large inflatable water floats, trampolines, and climbing towers, which are moored in place directly off the beach. These attractions can be a great addition to a beach party, and provide hours of fun for kids.
It's possible to have the large floats transported and set up at one of the incredible cays near Providenciales, including Half Moon Bay Beach, Water Cay, and Pine Cay.
Beach Wheelchairs
Beach wheelchair rentals are also available. Although they may not be needed very often, when required, there's no alternative. Daily rentals are offered, so it's possible to have a beach wheelchair for your entire stay.
Local Businesses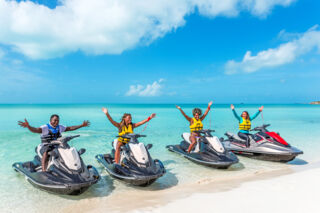 Five Cays Water Sports offers jet ski tours from directly off the beach at Five Cays, with a location near the popular Bugaloo's Restaurant and Omar's Restaurant. Tours include are led by knowledgeable guides, and visit some of the best west coast sights and attractions, including the Pirate's Cove and West Harbour Bluff, the iguana habitat of Bay Cay, secluded beaches, and much more.