Turks and Caicos
Marinas & Ports of Entry
The Turks and Caicos, as a tropical archipelago, is a convenient and beautiful stop for yachts and vessels cruising in the Caribbean and Bahamas region. On our island of Providenciales, high-quality fuel and services are readily available.
Ports of Entry
In the Turks and Caicos, ports of entry for visiting vessels can be found on the islands of Providenciales, Grand Turk, and South Caicos. On Providenciales, several marinas and government offices serve as a port of entry, on Grand Turk and South Caicos, availability and hours of operation are limited. See below for location and marina information.
Marine Fuel
Gasoline and diesel is available at several marinas and harbors in the Turks and Caicos. For most vessels visiting the Turks and Caicos, it's best to refuel on the island of Providenciales.
Providenciales is home to the vast majority of the population and services in the Turks and Caicos, as well as most imports. Gasoline and diesel is typically imported into Providenciales and Grand Turk via shallow draft tankers, and fuel is transported to our smaller islands by tank containers or fuel trucks. Specialty fuels, such as aviation fuels and REC 90 ethanol-free gasoline are also imported by tank container.
In the Turks and Caicos, fuel price, quality, and availability varies according to the island and marina. In the case of the newer and larger sites, such as South Bank Marina, fuel is very high quality and stored in well-maintained contemporary storage tanks, and is typically ultra-low sulfur diesel and ethanol-free gasoline.
For yachts and vessels too large to enter the local marinas, fuel bunkering can be arranged via a marine concierge service at the industrial port of South Dock.
Navigation Difficulty and Entry Depths
The shallow depths and complex reef systems in the Turks and Caicos can be very challenging to traverse, as the many wrecks that have occurred over the centuries can attest to.
On the island of Providenciales there are four marinas that cater to recreational and cruising vessels. Two are located on the north shore, and two on the southern coast.
The north coast marinas are approached through cuts in the Caicos Barrier Reef. Blue Haven Marina is reached by a rather direct cut and route through the reef at Leeward Cut, yet care should be taken to avoid the surrounding reefs. Turtle Cove Marina is approached by a more complex route, which for most mid and larger vessels typically requires access through the Sellar's Cut opening in the barrier reef. Both north reef cuts are susceptible to being affected by high ocean swells.
The south coast marinas are easier to access, and are more immune to high ocean swells. South Bank Marina offers an 8.5 foot entry depth at high tide, with relatively simple navigation. South Side Marina, located near Cooper Jack Bay and the Five Cays settlement, has a more limited channel depth.
On the islands of North Caicos, Middle Caicos, and Salt Cay offer minimal services for vessels, and challenging or limited entry depths.
The general East Harbour area near Cockburn Harbour on South Caicos offers shelter and easy entry for most vessels, yet those of any significant size will not be able to approach local docks or Seaview Marina due to shallows.
Maintenance, Repair, and Services
Providenciales is home to most services for vessels, and it's highly advisable to conduct any business on this island.
South Bank Marina is a port of entry and provides the best range of services, and in addition to what's typical at a recreational marina, the site offers haul-out for vessels up to 75 tons, a wide range of maintenance and repair services for both engines and hull, and professional onsite concierge.
Providenciales offers a decent selection of groceries stores, and there are welding and machinist shops as well.
If specific supplies or parts are required, a marina concierge is able to accept and pick up shipments sent to the Turks and Caicos via one of the courier services such as DHL, FedEx, or UPS, or LCL (less-than-container-load) shipments sent by ocean or air freight. Transport to resorts and villas can also be arranged.
Ports of Entry in the Turks and Caicos
South Bank Marina is an upscale marina, port of entry, and vessel service and repair site that caters to yachts and recreational vessels. High quality fuel is available, as well as a wide range of repair, maintenance, and marine concierge services.
Learn More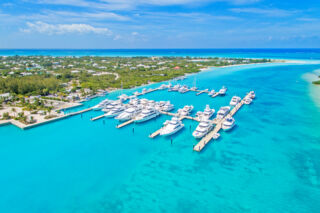 The luxury Blue Haven Marina is located at the amazingly beautiful Leeward Going Through channel off the east end of Providenciales. This extensive complex offers the full range of amenities including fuel, water and electricity services, restaurants, a market grocery store, and concierge services along with the onsite resort. Yachts up to 220 feet can be accommodated.
Learn More
This large full-service marina is the oldest on Providenciales and is located on the northern side of the island.
Learn More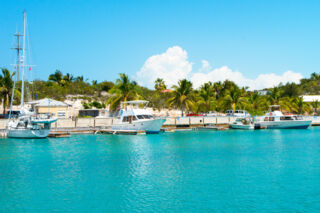 Found at the Turtle Tail area on the central south coast of Providenciales, this small marina offers general fuel, electricity and water services for yachts, and is also home to a few dive and water sports businesses. The onsite Bob's Bar is a great place for refreshments and offers excellent views over the Caicos Banks.
Learn More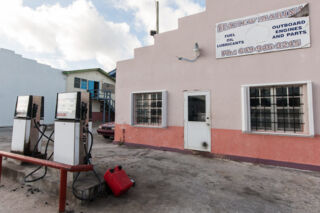 This business offers marine and fishing supplies and is convenient and centrally located fuel station for motor vehicles and watercraft. If no one is around, inquire at the adjacent Seaview Supermarket.
Learn More
Docks and Harbors
The following docks and harbors are not ports of entry, yet may be useful locations for refueling, resupplying, and other services. Many smaller docks and harbors in the Turks and Caicos have limited entry channel depths, and caution is advised when approaching.
Deane's Dock is the oldest harbor in the Turks and Caicos and the only port on Salt Cay. Along with the passenger ferry, local water sport businesses and fisherman use this complex.
Learn More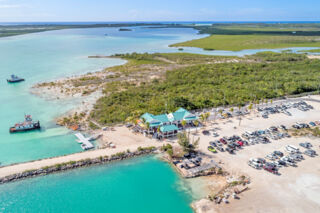 Bellefield Landing is the industrial and fishing port for the islands of North and Middle Caicos. This site is also the landing point for the Providenciales passenger ferries.
Learn More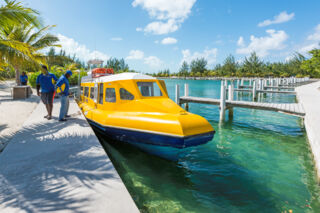 Found on the northwest point of North Caicos, Sandy Point Marina is a small marina and dock. Onsite is a restaurant and limited parking.
Learn More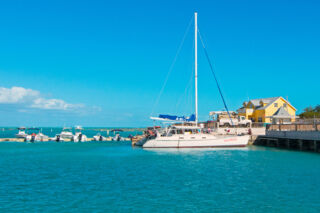 Heaving Down Rock Marina (Walkin Marina)
This small marina (also known as Walkin Marina) is located on the east point of Providenciales in Leeward Going Through Channel. Several water sports businesses operate from this complex, including the ferry services to North Caicos and South Caicos. This marina utilizes a floating dock system.
Learn More
Last reviewed by an editor on 17 June 2022.