The Pristine and Incredible
Beaches of North Caicos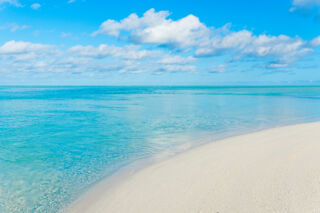 Sandy Point Beach is located near the ferry dock on North Caicos and offers exquisite shallows and sandbars. This coast is typically sheltered from the wave and wind, and is consequently quite calm.
Learn More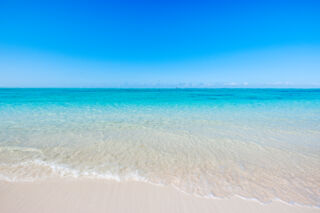 This calm and Casuarina tree-lined beach ranges from decent to quite nice. One of the more secluded beaches on North Caicos, Hollywood Beach and the adjacent Three Marys Cays is a great and tranquil place to explore.
Learn More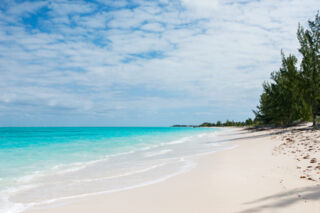 One of the best beaches on North Caicos, Whitby Beach offers clean turquoise water and white sand. Casuarina trees line much of the coastline here and provide ample shade. Whitby Beach is centrally located and easily accessible.
Learn More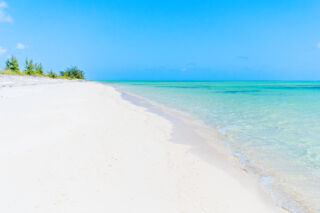 Horsestable Beach is the north-eastern most beach on North Caicos. The far eastern end of this area is Greenwich Creek, which is the inlet to the beautiful Bottle Creek Lagoon. Discover sandbars, shallows, and turquoise channels.
Learn More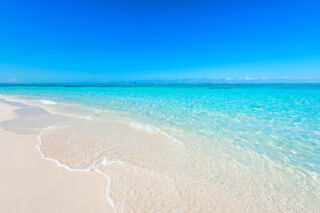 Several small yet scenic beaches can be found below the secluded rocky hills of Pumpkin Bluff. These little coves are broken up by low cliffs, and the water tends to be an inviting turquoise. The rusted remains of a wrecked freighter ship half a mile offshore makes for an interesting backdrop.
Learn More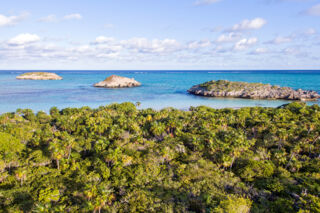 Found on the north coast between Sandy Point and Whitby, Three Mary Cays are three tiny rocky islands right near the beach. The scenery is beautiful here and there is excellent snorkeling not far out. This area can be difficult to find, so be sure to check the map before journeying.
Learn More
Secluded Beaches and Coasts to Discover!
Due to the fact that the west, south and east sides of North Caicos consist almost entirely of mangrove wetlands and shallows, all the beaches on the island are found on the 10 miles (16 kilometres) north coast. Unlike many of the Middle Caicos beaches, the coasts of North Caicos are situated farther back from the barrier reef and deep water, and consequently are a bit more sheltered from the ocean swells.
Whitby Beach, Hollywood Beach and Pumpkin Bluff Beach are the best beaches on North Caicos, yet minor amounts of floating seaweed and sargassum tends to be a bit more of a problem on North Caicos than on many of the other Caicos islands. If such conditions are present on North Caicos, Pumpkin Bluff Beach and Hollywood Beach are typically the least affected.
As is also the case with Middle Caicos, these coasts see very few visitors. You'll likely have miles of beach to yourself.
Snorkelling
Beach snorkelling sites on North Caicos are unfortunately quite limited.
Three Marys Cays is the main viable site. When the wind and ocean conditions are calm, the underwater sights around these three limestone ironshore islands are interesting. You won't likely see anything large, yet colourful reef fish, sea fans, crabs and small amounts of coral can be spotted.
Mosquitoes and Sand Fleas
Mosquitoes and sand fleas are two pests can be quite a nuisance at times on North Caicos. The majority of the North Caicos beaches are largely protected from the regular trade winds, so the insects may run rampant after heavy rains.
Sand fleas, or no see ums, are the common local name for biting midges. These tiny insects are not actually fleas.
Sandy Point Beach is typically the most affected. If the conditions persist, Horsestable Beach or one of the Middle Caicos coasts will usually be a suitable alternative. Due to the breeze, windward coasts usually won't have sand fleas.
Key Points
All beaches in the Turks and Caicos are public, and free-to-use. The law does not guarantee access across private property.
Fishing without a licence or in a protected area (national park or nature reserve) is illegal and carries fines and possible jail time. This includes the collection of conch, lobster, crab and shellfish.
Secluded beaches carry an increased risk of crime, both to person and property. Don't leave valuables in your car or on the beach unattended. Read our Safety and Crime section for more information.
Some beaches are very remote and there may not be any other people around to provide assistance in an emergency. Exercise caution and be aware of currents, surf conditions and hidden hazards.