Getting Around North Caicos and Middle Caicos
The transportation options for North Caicos and Middle Caicos at this time are limited to rental cars and jeeps, and taxis. There is no public transport of any kind. Attractions and stores tend to be spread over both islands, so we highly recommend that you rent a vehicle for your stay.
Due to the low populations, light traffic and that fact that the main roads are paved, most will find driving to be easy and stress-free. We do however recommend caution when driving on unpaved and poor quality roads. In many of the low lying areas, flooded potholes may be deeper than they appear to be.
Navigation on North and Middle Caicos is linear and not difficult, but it can be easy to miss some of the attractions such as Cottage Pond, Flamingo Pond Overlook, and Indian Cave, so you'll want to have a map. Maps are often provided by the rental agency, but supplies can be limited at times so consider printing your own.
The speed limit is 40 MPH on highways and 20 MPH through settlements. Please drive slowly and carefully when travelling through settlements.
At this time, no rental companies offer scooters. Taxis are available, but can be tardy and expensive.
Complementary bicycle use is offered at some hotels and villas. Due to the heat and travel distances, we recommend them as a main means of transportation only to enthusiasts.
The North Caicos - Middle Caicos Causeway
A mile long causeway connects North Caicos to Middle Caicos. When the causeway was built in 2007, it had two paved lanes, concrete side barrier walls and lighting. However, in 2008, Hurricane Hanna hit and caused serious damage, washing off the asphalt paving in sheets and generally reducing the width to a single rough track.
At this time, the causeway has fully repaired and is open for traffic. The surface is paved and is safe and suitable for any vehicle.
Fuel
North Caicos has three gas stations: one near the Sandy Point Road and Kew Highway junction, and two in the region of Bottle Creek. Gasoline prices tend to fluctuate and are usually a bit high compared to Providenciales. The current average is about $6.50 a gallon (2015).
Middle Caicos does not have any regularly operating gas stations.
Key Points
We drive on the left.
Many drivers do not exercise due care and attention, especially operators of taxis (both legal and illegal).
Don't pick up hitch-hikers or provide assistance to other motorists. If you think they need help, call the police on 911.
Typical Rental Requirements
Minimum rental age is usually 21 or 24 (18 for scooters).
Valid drivers license required. An International Driving Permit (IDP) is not needed, unless your licence is not in English.
A valid passport and credit card may be required.
Car Rental Companies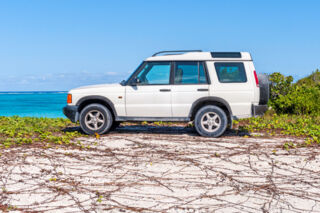 Al's Rent A Car offers car, van, SUV and 4x4 rentals. Free pickup or delivery to Sandy Point Marina, the North Caicos Airport, or your accommodation. Headquartered in Bottle Creek, North Caicos.
Learn More
Silver A La Car Rental offers a range of well-maintained (with air conditioning!) compacts, SUVs and vans. Drop off and pick up from the North Caicos airport and the marinas is complimentary.
Learn More
Old Nick's offers car, SUV, Jeep and pickup truck rentals on North Caicos. Delivery and pickup from Sandy Point Dock or the North Caicos airport available for free.
Learn More
Taxis
Cardinal Arthur's Taxi and Tours
Cardinal Arthur, a Middle Caicos native, offers custom tours of the points of interest on land and water around Middle and North Caicos, along with a regular taxi service.
Learn More
Gardiner's Taxi offers taxi and island tour services on both North Caicos and Middle Caicos.
Learn More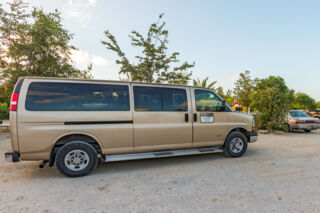 Headed by well-known island personality Mack, M and M Tours offers knowledgeable and friendly taxi and island tour services on the islands of North Caicos and Middle Caicos.
Learn More