The Beautiful and Secluded
Beaches of Middle Caicos
Rugged and remote are the defining features of the beautiful beaches of Middle Caicos. Home to the tallest ocean cliffs in the country, much of this island's northern coastline is located quite close to the deep water off the edge of the Caicos Islands underwater plateau.
As is also the case with adjacent North Caicos, almost the majority of the west, south and east sides of Middle Caicos are mangrove wetlands and shallows, which edge the shallow Caicos Banks. Because of this, all of the island's beaches are found on the 17 mile north and northeast coast.
In addition to the rugged and majestic north coasts, Middle Caicos also hides several amazing channel beaches, where clear water flows between uninhabited cays, creating picturesque shallows, sandbars, and lagoons.
Amazing Beaches and No Crowds
The scenic Mudjin Harbour and Bambarra Beach are the best beaches on Middle Caicos, yet even considering the general popularity of these two coasts, the number of visitors to Middle Caicos is so low that you'll likely won't have to share a coast with anyone else. The other lesser-known yet still beautiful beaches on the island can go weeks or months without seeing a soul.
As is the case throughout the Turks and Caicos, all beaches are public to the high tide point, with free access. Discover your own piece of secluded white sand paradise on Middle Caicos.
Snorkelling
During calm wind and ocean conditions, the snorkelling at Mudjin Harbour and Conch Bar Beach can be quite good. Spur and groove reef formations, coral arches and yellow sea fans are abundant, and the occasional grey reef shark can be spotted as well. The two coasts are the only beaches in the Turks and Caicos where it's easy to snorkel spur and groove features from shore.
The shore snorkelling quality on North Caicos and Middle Caicos is highly dependent on the weather. If it's windy or if waves are breaking, we recommend postponing the activity.
Waves and Surf
More so than any other coast in the country, Mudjin Harbour and Conch Bar Beach can have an impressive swell and break at times.
For general swimming and snorkelling, we recommend avoiding the water when the waves are large. If such conditions are present, the typically-sheltered Bambarra Beach is a great alternative.
Key Points
All beaches are public and free, including beaches in front of private residences. The law does not guarantee access across private property.
Fishing without a licence or in a protected national park or nature reserve is illegal and carries significant fines and possible jail time. This includes harvesting conch, lobster, or shellfish.
Secluded beaches carry an increased risk of crime. Don't leave valuables in your car or on the beach unattended. Read our Safety and Crime section for more information.
Some beaches are very remote and there may not be any other people around to provide assistance in an emergency. Exercise caution and be aware of currents, surf conditions and hidden hazards. If you're interested in discovering remote beaches, we advise renting a 4x4 vehicle.
Ensure that you have plenty of drinking water, especially when visiting remote locations.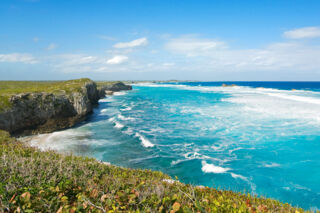 Mudjin Harbour's coastline offers what many consider to be the finest landscape in the Turks and Caicos Islands. Beginning at the northwest point of Middle Caicos, Mudjin Harbour consists of two miles of spectacular high limestone cliffs and white sandy beaches, ending at the impressive Dragon Island. Don't forget to bring your camera.
Learn More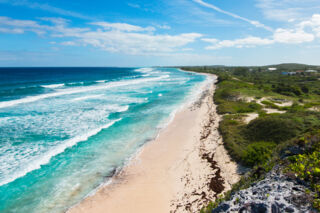 This beach is found right off Conch Bar Village and is a very scenic area. The snorkeling here can be quite good during calm conditions.
Learn More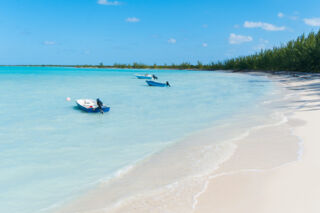 The water here tends to be much calmer than most of the other Middle Caicos beaches, so this is probably the best beach for swimming. Bambarra Beach is also the home of the annual Valentine's Day Cup model sailboat race.
Learn More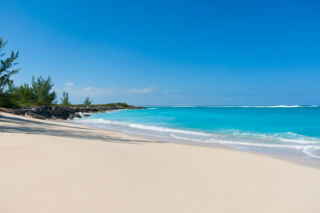 Remnants of a pier and crane from a failed cargo port can be seen at this section of beach. The water here is a little better for swimming than the beach off Conch Bar Village. The disintegrating equipment here can be dangerous, so be careful with children.
Learn More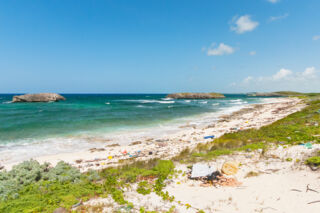 Several small scenic beaches are found between the cliffs along the Crossing Place Trail. These beaches really aren't good for swimming and the water is usually too rough for snorkeling, but they are excellent spots for exploring and flotsam beach combing.
Learn More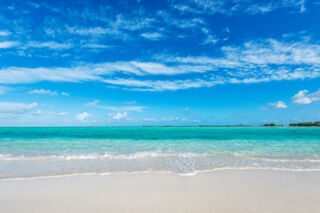 Cedar Point Beach is found on the far eastern point of Middle Caicos and can be an impressive spot at times. The water here is very shallow and large sand bars are constantly moved over the years by the currents between the small adjacent cays. This beach is quite remote so be sure to bring plenty of drinking water.
Learn More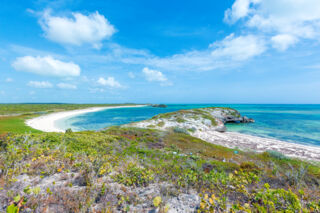 One of the more remote beaches on Middle Caicos, Haulover Point is really not good for swimming or snorkeling. A great spot for flotsam beach combing.
Learn More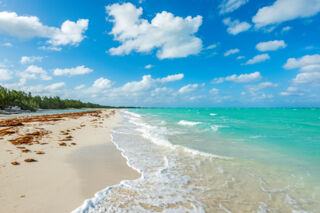 This remote beach is found on the east end of Middle Caicos. An excellent spot for beachcombing, Wild Cow Run is also one of the better locations for kiteboarding on North Caicos and Middle Caicos.
Learn More
This section of coastline on Middle Caicos offers low limestone cliffs and interspersed beaches. Although relatively easy to access, the area is quite secluded.
Learn More