Sights and Attractions on North and Middle Caicos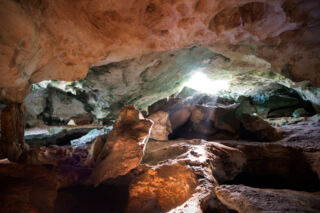 Conch Bar Cave is the largest above ground cave system in the entire Bahamas - Turks and Caicos archipelago. In the 1880s, bat manure was mined here and exported for fertilizer. During these excavations, several ancient Lucayan Indian artifacts were found, including two unique Duho seats.
Learn More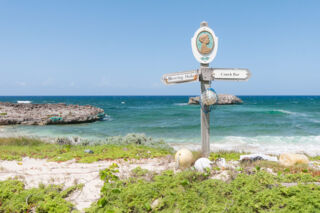 Traditionally the main link between North and Middle Caicos, Crossing Place Trail is a mildly-strenuous path that leads along the breathtaking cliffs and beaches of Mudjin Harbour. It's best to wear shoes or boots when hiking this trail as some areas can be rocky.
Learn More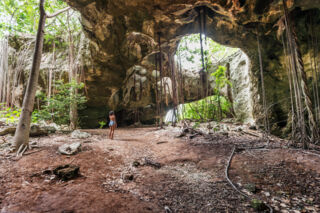 Indian Cave is a single gallery cave with many openings and skylights. It can be found just off the main road about half a mile west of Conch Bar Village and is well worth a quick stop. Archeological digs conducted here have reviled artifacts from ancient Lucayan Indians and bones from extinct animals such as giant land tortoises and flightless birds.
Learn More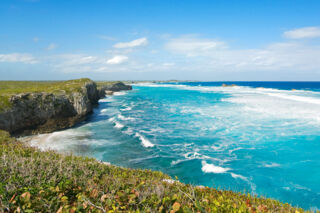 Mudjin Harbour's coastline offers what many consider to be the finest landscape in the Turks and Caicos Islands. Beginning at the northwest point of Middle Caicos, Mudjin Harbour consists of two miles of spectacular high limestone cliffs and white sandy beaches, ending at the impressive Dragon Island. Don't forget to bring your camera.
Learn More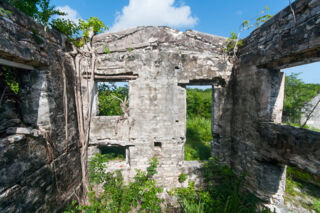 Found near Kew on North Caicos, Wades Green is the best preserved and most famous historical plantation in the Turks and Caicos. Built by Wade Stubbs in 1789 as a cotton and sisal plantation, the buildings here are in better condition and more clearly identified than any other plantation site in the country.
Learn More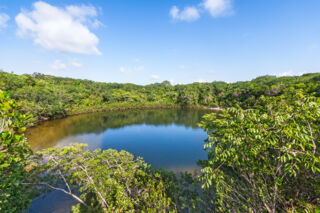 Explored by divers in 2001, this scenic 150 foot diameter fresh-water pond was found to have cave systems going down as deep as 250 feet. This is also an excellent site for bird watching. Easy stop right off of Sandy Point Road (near the Providenciales ferry marina).
Learn More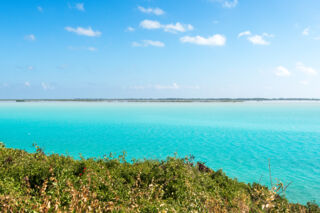 This scenic national park is found between North Caicos and the Bay Cays. It's also the only other area in the Turks and Caicos that matches the turquoise vibrancy of Chalk Sound on Providenciales.
Learn More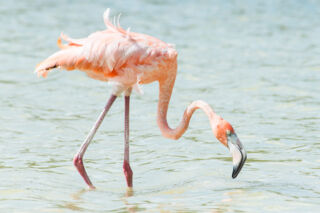 Thousands of West Indian flamingos can be seen at times at the Flamingo Pond overlook. The overlook is a distance from the pond, so it helps to bring binoculars.
Learn More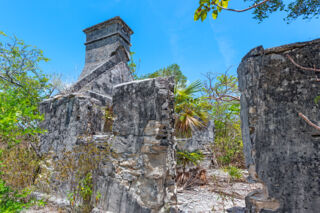 About two miles north of the Lorimers settlement is Haulover Plantation ruins. Constructed by John Lorimer in 1791, Haulover was one of the largest plantations ever in the Turks and Caicos.
Learn More
Government Farm (North Caicos)
This government sponsored farm produces much of the produce used on North and Middle Caicos. Along with vegetables and bananas for consumption, native plants are grown here for conservation reasons, and goats are also raised. Visitors welcome.
Learn More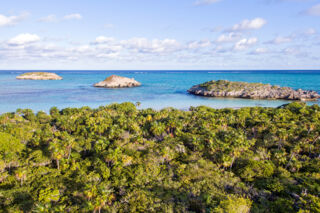 Found on the north coast between Sandy Point and Whitby, Three Mary Cays are three tiny rocky islands right near the beach. The scenery is beautiful here and there is excellent snorkeling not far out. This area can be difficult to find, so be sure to check the map before journeying.
Learn More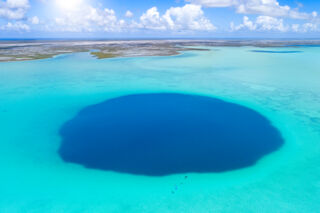 Found off the south coast of Middle Caicos in the shallow Caicos Banks, The Ocean Hole is a 250 feet (76 m) deep geological feature that can clearly be seen by air when flying by Middle Caicos.
Learn More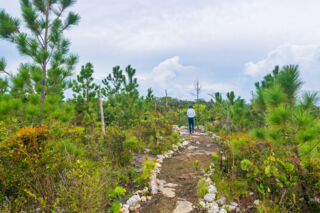 This short nature walk offers the opportunity to see close up the threatened and unique pine that is the national tree of the Turks and Caicos. Small trails lead through beautiful pine, palm and saw grass wilderness.
Learn More
Tropical Wilderness Awaits!
More so than the other islands in the country, North Caicos and Middle Caicos have quite a few non-beach natural attractions, including caves, sea cliffs, ruined plantations and more.
Wild and Spectacular Coastlines
Of all the island in the Turks and Caicos, Middle Caicos definitely take the lead in majestic coastlines.
Mudjin Harbour is justly a contender for best landscape in the Turks and Caicos. High limestone cliffs, hidden beaches and the rugged Dragon Cay create an unmatched day trip destination. When there's a high ocean swell, the grand and rolling waves here are incredible and can be watched for hours.
The Crossing Place Trail continues to the west atop the Mudjin Harbour cliffs and offers countless spectacular views and hidden beaches. This environment hides amazing limestone terrains, including dry cave features that have been altered and overprinted by the ocean, intricate and treacherous limestone ironshore features, and a tenacious and salt resistant collection of plant life.
Other amazing coastal sites include the turquoise Bottle Creek Lagoon, the cliffs and coves of Haulover Point, and the incredible shallow water and sand bars of Cedar Point.
Caves and Blue Holes
Formed slowly over time by the Karst system of dissolution, sinkholes caves and blue holes abound on North Caicos and Middle Caicos.
The elaborate Conch Bar Caves is the best-known system in the country. Used as a storm shelter by the Taino aborigines and later on mined for guano during the plantation days, this is the largest dry cave in the entire Turks and Caicos – Bahamas archipelago.
Indian Cave is another fascinating sight. This feature is a large open gallery cave, with sinkhole skylights, wild ficus trees and papayas.
Cottage Pond is great example of a tropical blue hole. Bottoming out at about 260 feet (80m), this round brackish pond hides submerged cave systems as well.
Rarely visited due to the difficulty of access, the Middle Caicos Ocean Hole is unbelievably huge. Evidence suggests that this perfectly-circular feature is quite likely the widest blue hole in the world.
Juniper Hole is one of the largest sea caves in the Turks and Caicos, and is one of the many sights on the Crossing Place Trail.
The Loyalist Plantations
Both islands also have had a long history with planting and agriculture, once supporting a lucrative cotton industry and dozens of expansive plantations.
Today, the ruined late-1700s plantations of Wade's Green and Haulover are open to the public, but many other sites remain abandoned in the dense vegetation.
During their heyday, these plantations had the reputation for raising some of the finest cotton in the Americas. The common strain grown was referred to at the time as Sea Island Cotton, and was actually introduced to our archipelago by the indigenous Taino peoples.
Birdwatching
Birdwatching is another great attraction of North and Middle Caicos. Both islands feature extensive wetland systems, with tidal mangrove shallows, brackish ponds, and landlocked interior saline flats.
The distinct eco-systems across the islands attract differing birds. The marine ponds support flamingos, tri-coloured herons, great blue herons, green herons, reddish egrets, great egrets, and cormorants.
On the coasts, ospreys, pelicans, stilts, long-tailed tropic birds, and terns can be seen. Although not a globally rare species, the fascinating common barn owl is a great sight and makes its home in the caves and ruins on the islands.
The fresh water sites, such as Cottage Pond, shelter ducks and grebes, and the high canopy of the tropical dry forests of Kew and Wade's Green are alive with warblers, blue-grey gnatcatchers, bananaquits, and Bahamas woodstar hummingbirds.
One positive aspect of birding on North and Middle Caicos is that there's always another site visit. Flamingo Pond Overlook is a good place to start, yet the backroads of the two islands lead past countless ponds and waterways. Interesting and perspective sites include the Pumpkin Bluff ponds, the inland ponds at the Crossing Place Trail, and the salt flats near Haulover Plantation and Haulover Point.
The Turks and Caicos is home to an impressive number of birds, plants and reptiles that are endangered or are found nowhere else.
The Caicos Pine, a variety of the Caribbean Pine, is one such example. This tree is a true pine (unlike the invasive casuarina that thrives on many of our coastlines) and is only found on a few islands in the centre of the country. The Caicos Pine Yard Trail attraction is a great place to see and learn about this endangered tree.
The West Indian whistling duck, which can be seen at times in our waterways, is another example due to its wetland habitat decline in the Caribbean.