Turks and Caicos
Marine Fuel and Bunkering
The Caribbean and Lucayan Archipelago is a spectacular place to tour via yacht or sailboat, and one of the best ways to reduce the chance of vessel problems when in the region is to conduct proper fueling planning. Fuel availability and quality vary greatly across the islands.
As a mid-way point between Florida and the southern Caribbean, the Turks and Caicos is an excellent place to refuel vessels as uncontaminated diesel and gasoline, in several grades, are reliably available.
Most diesel sport fisher trawlers and yachts easily have the range to sail from much of the southeast coast of the US to the Turks and Caicos, which allows for only one stop on the way to popular destinations such as Antigua, the British Virgin Islands, Barbados, and St Lucia, allowing for more convenient transits that avoid stops in the Bahamas, Dominican Republic, or Puerto Rico.
The island of Providenciales is home to most of the development in the Turks and Caicos, as well as nearly all marine fuel supply and services. All vessels are advised to refuel and resupply on Providenciales.
Marine Diesel Fuel
Both ultra-low sulfur diesel and low-sulfur diesel are available in the Turks and Caicos. Heavy bunker fuel oil is not typically available, yet can often be arranged in some situations upon special request with ample notice.
Marine Gasoline
Gasoline in a marine setting is available on the islands of Providenciales, Grand Turk, and South Caicos. Most gas will contain ethanol, yet Rec 90 Ethanol-free gasoline is available at some marinas on the island of Providenciales in the Turks and Caicos, and at a select few automotive gas stations.
Marine Fuel Quality Issues in the Caribbean
Fuel quality, concerning both diesel and gasoline, should always be a primary consideration when fueling in the Caribbean and tropical Atlantic. Simply put: there's a wide variance in water and debris contamination across the region, especially at outer island locations. To compound the issues, engine repair and services are also severely lacking, which makes avoidance of poor fuel quality the best strategy.
The age, design, and engineering of fuel storage tanks contribute greatly to their fuel quality. In the Turks and Caicos, most marinas feature relatively new tanks, as most upscale sites were constructed or refurbished in recent years, with careful planning going into fuel storage and distribution.
Another fuel quality consideration is turnover. Sitting diesel and bunker fuel can experience microbial growth problems, which may lead to tank corrosion, and low-sulfur diesels appear to be more susceptible to the condition. Gasoline decay can lead to poor fuel performance and 'varnish' accumulation.
Finally, it's also important to look at quantities and methods of fuel offloading from tanker ships for a given island or port. Sometimes, tanker offloading sites only use a single pipeline to offload multiple fuel types. As the fuel types and grades pumped through pipelines are changed, there will be quantities of mixed and contaminated output. The approach to dealing with the contaminated fuel varies, which may lead to one fuel type at the end use being mixed to varying degrees with other fuel(s). Sites that only use relatively small quantities or those looking to cut costs are more likely to have fuel mixture contamination.
Sulfur Content in Available Diesel
One consideration, especially for vessels that may continue on to operate in Europe from a destination with fuel sulfur restrictions. Ultra-low-sulfur diesel (ULSD) is required for inland vessel use in a constantly increasing number of countries.
Fuel Testing
Unfortunately, there is very limited capacity for laboratory fuel and oil testing in the Caribbean and Turks and Caicos. When operating in the region, it may make sense to use a fuel test kit, especially in the case of vessels powered by advanced diesel engines.
Fuel Quality in the Turks and Caicos
The Turks and Caicos has had a great reputation when it comes to fuel quality, both for marine and aviation. In fact, regional private aircraft arrival records have been set by the Turks and Caicos in the past, primarily due to the availability and quality of fuel.
Marinas in the Turks and Caicos typically provide either ultra-low sulfur diesel, or low sulfur diesel, depending on the site. Gasoline or petrol is typically ethanol-free in the larger marinas, yet some smaller sites only have typical automotive gasoline, which would contain ethanol. The upscale marinas in the Turks and Caicos usually have high-quality and clean fuels.
Duty-Free Fuel
When fuel is being purchased by the ton, every cent matters. Efforts are being made to allow for duty-free purchasing of fuel for international vessels that will be departing the Turks and Caicos.
Bunker Fuel in the Turks and Caicos
For a superyacht or other large ships, fuel bunkering of vessels too large to enter local marinas can be arranged at the South Dock port on the island of Providenciales, typically via working with one of the yacht concierge services. High-quality ultra-low sulfur and low sulfur diesel can be delivered by truck. Bunker fuel oils A, B, and C, are generally not available for a one-time sale event, and residual fuel oil is not available.
Yacht Concierge and Maintenance
Facilities and services for maintenance and repair are available in the Turks and Caicos, yet are limited for vessels over 75 tons. Petroleum products such as diesel engine oil can be sourced on Providenciales, yet when large quantities or specific products are required, it makes sense to arrange shipment of such products prior to arrival. Yacht concierges and marina maintenance managers will typically be able to assist.
Marine Fuel and Concierge
South Bank Marina is an upscale marina, port of entry, and vessel service and repair site that caters to yachts and recreational vessels. High-quality fuel is available, as well as a wide range of repair, maintenance, and marine concierge services.
Turtle Cove Marina is a full-service marina that caters to private vessels and local tour companies. The location is the oldest marina on Providenciales, and is home to many restaurants and shops. The broader Turtle Cove area supports low-density and upscale residences and villas.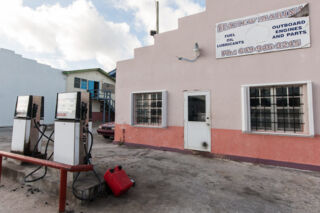 This business offers marine and fishing supplies and is a convenient and centrally located fuel station for motor vehicles and watercraft. If no one is around, inquire at the adjacent Seaview Supermarket.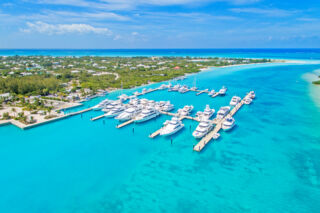 The luxury Blue Haven Marina is located at the amazingly beautiful Leeward Going Through channel off the east end of Providenciales. This extensive complex offers the full range of amenities including fuel, water, and electricity services, restaurants, a market grocery store, and concierge services along with the onsite resort. Yachts up to 220 feet can be accommodated.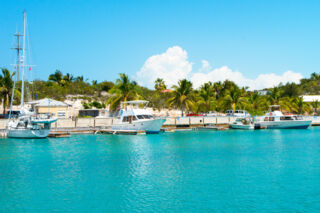 Found at the Turtle Tail area on the central south coast of Providenciales, this small marina offers general fuel, electricity and water services for yachts, and is also home to a few dive and water sports businesses. The onsite Bob's Bar is a great place for refreshments and offers excellent views over the Caicos Banks.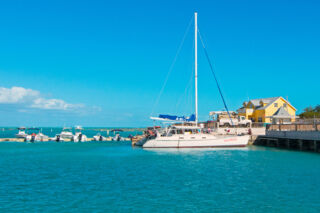 Heaving Down Rock Marina (Walkin Marina)
Heaving Down Rock Marina (also known as Walkin Marina) is located on the eastern coast of Providenciales, and on Leeward Going Through Channel. Several water sports businesses operate from this complex, including the ferry services to North Caicos and South Caicos.