The Beautiful and Secluded
Beaches of Salt Cay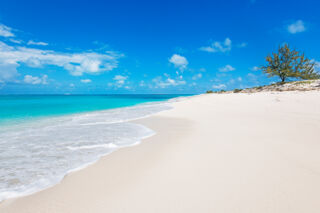 By far the best beach on Salt Cay, North Bay offers clear water, pristine sand and the occasional small reef for snorkeling. This beach is located about one mile from the main Balfour Town area.
Learn More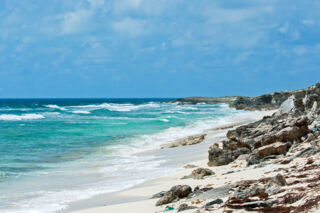 Long Bay is one of the more secluded beaches on Salt Cay and also usually experiences rougher ocean conditions than what's typical to the island's other beaches due to the coast's windward location. A great area to explore, this beach offers excellent beachcombing.
Learn More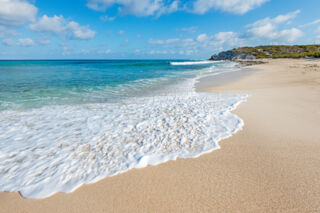 Most of the accommodations on Salt Cay are located close to this coastline. Although the water here is typically calm and clear, most of the coast is rocky, with only a few sandy patches. Decent snorkelling can be found offshore.
Learn More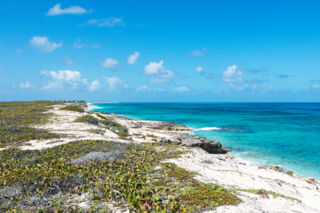 Found at the far north end of Salt Cay, Northeast Point offers panoramic views, small sections of beach, and low cliffs. A great area for sightseeing, exploring, and during the winter months, whale watching.
Learn More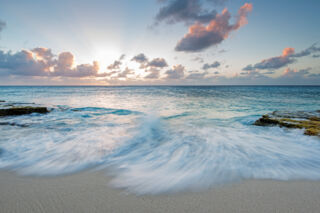 Located west of the South District area on Salt Cay, the majority of the coast here is rocky, interspersed with the occasional sandy beach. This is the best beach on the island for watching the sunset.
Learn More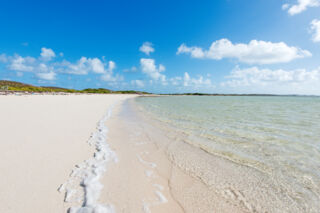 The only wetlands on Salt Cay, South Creek is a great spot for exploring and kayaking. Although much too shallow for swimming, there are beaches and sand patches, especially at low tide.
Learn More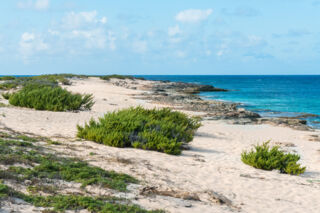 This secluded and scenic area is great for beachcombing and shell collecting, and is the far southern point of Salt Cay. There's usually rougher waters on the eastern side of the point and calmer conditions off the west side, which makes for an interesting contrast.
Learn More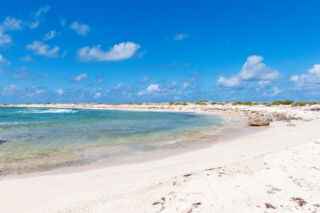 South Bay is found off the southeast side of Salt Cay. This small yet scenic coast features a rugged and weather beaten atmosphere, great seashell and flotsam beachcombing, and interesting birdwatching. Look for the friendly donkeys browsing in the area!
Learn More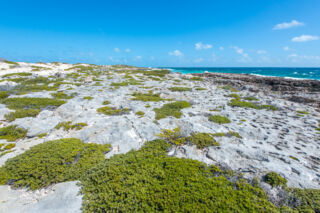 The isolated Whale House Bay is the most difficult beach to access on Salt Cay, as there are no roads leading to it. As an eastern windward coast, the ocean here is usually rough, yet the region is nevertheless beautiful. Whale House Bay is adjacent to the old Grey Salina salt pan.
Learn More
The Secluded and Spectacular Beaches of Salt Cay!
The little island of Salt Cay offers a surprisingly varied selection of beaches. The northern and western coasts feature sheltered beaches and white sand, and the eastern side of the island takes on a bit more of a rugged appearance, with bluffs, rocky coasts, and rougher ocean conditions.
The exquisite and secluded North Bay is by far the best beach on Salt Cay, and offers perfect turquoise water, clean white sand, and the occasional snorkelling reef. The finest section of this coast fronts the ruined Windmills resort.
The beach to the north of Deane's Dock and Balfour Town is also quite nice, albeit quite rocky. Due to being in the lee of Little Bluff Lookout, this beach is typically quite calm.
A great aspect of exploring the Salt Cay beaches are seeing hidden points of interest that are scattered across the island. There are centuries-old salt salina features, historical ruins, old wells, and wetlands. Small routes lead across the dunes and salinas, and are great to explore.
Although not quite a beach, the largely interior South Creek offers shallow water, soft white sand and small sandbars and channels. The water here tends to be calm and warmer than what's found at the island's other beaches, which makes it a great coastal area for children.
Beach Accesses
It's quite easy to access nearly every beach on Salt Cay. Many the roads and paths lead along the coast, so you'll be able to simply stop at any spot that looks inviting.
Snorkelling
Salt Cay offers some great and varied snorkelling.
The sheltered waters off of Deane's Dock, Balfour Town Beach and Little Bluff Lookout are a great place to start as the ocean at these locations is often calm and underwater visibility is usually great.
North Bay also supports some great reefs. The snorkelling sites in this area tend to be distinct circular reefs that stand out from the otherwise consistently sandy ocean floor. To the west of the main bay is North West Point, where a more complex barrier reef systems closely approaches the shore.
South District Beach hides two fascinating underwater sights: a sunken Cessna 401 airplane, and a fishing boat shipwreck. These features were intentionally placed as dive sites.
During abnormally calm days, some excellent sites at South Point and Northeast Point become viable as well.
Beachcombing
Due to being exposed to the east southeast trade winds, the remote Long Bay, South Bay and South Point are excellent for beachcombing.
The items that wash up can be quite interesting, and range from seashells, messages in bottles, sea glass, fishing floats, and more.
Beach Amenities and Shopping
Cold drinks and snacks can be found at one of Salt Cay's three small variety shops.
Beach shopping is quite limited on Salt Cay. The small Splash Boutique near Salt Cay Divers offers the best selection, with some clothing, a few snorkel masks, sun screen, and gifts.
Some of the vacation rental villas include complimentary guest use of beach towels, umbrellas, coolers, and snorkel equipment.
Key Points
All beaches in the Turks and Caicos are public and free to use.
Fishing without a licence or in National Parks is illegal and carries significant fines and possible jail time. This includes collecting conch and lobster.