Getting to Salt Cay
Salt Cay is the most difficult to access inhabited island in the Turks and Caicos Islands. Salt Cay is part of the Turks Islands group, and is located about 80 miles east of Providenciales. Due to this distance, passenger ferries between Salt Cay and Providenciales are unfeasible.
Salt Cay Airport (SLX) doesn't have any international flights, and the nearby capital island of Grand Turk doesn't either. All international flights to the Turks and Caicos arrive at Providenciales International Airport (PLS).
Because of this, it's highly recommended that you first stay in Providenciales for at least a few days before continuing on to Salt Cay. If you're coming to dive, make sure you also checkout the excellent dive spots on Providenciales as well.
Salt Cay doesn't have a large selection of shops. Consider stocking up on any non-common supplies or foods before to get to Salt Cay. See Salt Cay Shopping and Providenciales Grocery Stores and Supermarkets.
For information on connecting through Providenciales, check out the Getting to Providenciales page. You'll find passports and visas requirements (United States and United Kingdom citizens don't need a visa), flight information, local connections, and more there.
Getting to Salt Cay by Air
The easiest way to get to Salt Cay is via plane. There is currently only one airline that flies to Salt Cay, Caicos Express Airways which operates routes from both Providenciales and Grand Turk. Be warned that cargo space may be quite limited as they fly small Piper Aztecs and Cessnas.
Cost is around $180 per person roundtrip from Providenciales (2015), although discounts can be arranged for large groups.
Salt Cay Airport (SLX) is a small one terminal, one runway airport.
Getting to Salt Cay by Ferry from Grand Turk
The Salt Cay Ferry runs Tuesday, Wednesday and Friday. It departs from Salt Cay, so you can't use it to make a day trip from Grand Turk to Salt Cay. You can only really use it to make day trips from Salt Cay to Grand Turk.
The ferry lands at Deane's Dock on Salt Cay.
Salt Cay Community Ferry Schedule

Day

Depart
(Salt Cay to Grand Turk)

Return
(Grand Turk to Salt Cay)

Tuesday
8:00
14:30
Wednesday
8:00
12:30
Friday
8:00
14:30
Related Businesses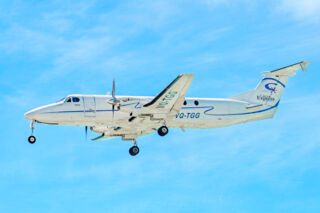 Local airline offering scheduled domestic flights, along with international charters.
Learn more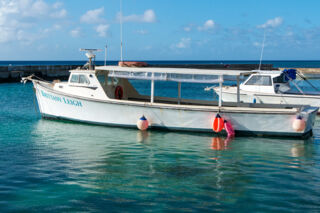 This ferry service is scheduled for three days per week and runs on Tuesday, Wednesday and Friday. It travels between Deane's Dock on Salt Cay and South Dock on Grand Turk. Travel time is about one hour.
Learn more