Salt Cay
Getting Around & Transport
Salt Cay is a very small island with an equally small resident population. The transport options are limited to golf carts, bicycles, and walking. There are no taxis, conventional rental cars, or bus services.
There are also no paved roads on Salt Cay. The main settlements have hard-rolled limestone quarry roads, and the more remote beaches and coasts are accessed by sandy tracks and paths. Salt Cay is only about 3.8 miles (6.2 km) from Northeast Point to South Point, which are the extreme ends of the island.
Our recommendation, especially for day trip visitors, is to rent an off-road golf cart. With such a vehicle, you'll be able to see all of the main sights easily in one day.
Bicycles can be a good way to get around the main settlements of Balfour Town and South District, especially if you're staying on the island for a few days and you're not confined by the time constraints of visiting on a day trip. Due to the sun and heat, cycling can be a bit strenuous, especially when traveling to outlying locations.
It's important to keep in mind that the sun and heat can be quite intense on Salt Cay. The island is located on the far eastern side and upwind of our archipelago, and consequently doesn't experience the late afternoon clouds that bring shade to the Caicos Islands. If you're planning to hike or cycle on Salt Cay, be sure to bring plenty of drinking water and sun protection.
If you're visiting Salt Cay from Providenciales or Grand Turk on a day trip, we advise selecting a golf cart over bicycles so as to be able to conveniently and pleasantly see all of the main sights and beaches. It's quite fun to cruise about the island on these little vehicles!
Scooters are available for rent, but keep in mind that the sandy and rocky roads of Salt Cay are far better suited for off-road golf carts.
Several of the rental villas and accommodations include the complimentary guest use of bicycles and golf carts. Inquire when booking.
The Tracks and Trails of Salt Cay
Small unpaved trails lead to the many beaches, coasts, and salinas that make Salt Cay such a scenic destination, and these routes vary in surface conditions.
The western beach track that leads along the beautiful dunes from North Bay to Northeast Point is generally the most difficult due to the soft sand, which can bog down the golf carts.
The roads to South Point and Long Bay tend to have rocky sections that are traversable yet restrict travel speeds.
Booking and Reservations
Gas-powered off-road golf carts are available for rent, with rates of about $85-100 per day, which typically include the gas used. These vehicles are convenient, quiet, and a perfect method of transport for Salt Cay.
Most golf carts and buggies feature shade canopies, yet you'll also want to bring a hat, sunglasses, and sunscreen, as it's quite easy to get sunburned.
We recommend that you book in advance to ensure that a golf cart or scooter is available as there's a limited selection of vehicles available, especially during the winter whale watching season.
Deane's Dock is the oldest harbor in the Turks and Caicos and the only port on Salt Cay. Along with the passenger ferry, local water sport businesses and fishermen use this complex.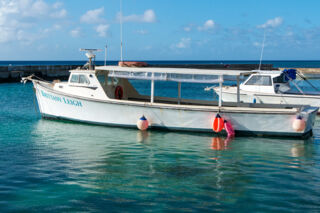 This ferry service is scheduled for three days per week and runs on Tuesday, Wednesday and Friday. It travels between Deane's Dock on Salt Cay and South Dock on Grand Turk. Travel time is about one hour.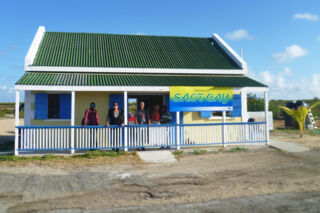 This small single runway and terminal airport is domestic only and services the island of Salt Cay.