Do Not Touch Fish or Coral
Whale House Bay is another secluded and scenic coastline to explore on Salt Cay. Typically not a good spot for swimming or snorkeling due to ocean conditions.
3 star rating for Whale House Bay by Visit Turks and Caicos Islands
This 1400 feet (427 meters) beach is found between Long Bay Beach and Northeast Point.
As is the case with the east coast, conditions here are usually rougher than those on the north and west coasts. The area is quite scenic and a great place to explore, take photos or beachcomb. Unsurprisingly, the rocky cay close off the coast here is named Whale Island.
As the name suggests, Humpback Whales can be spotted off the coast here during the January to March whale season.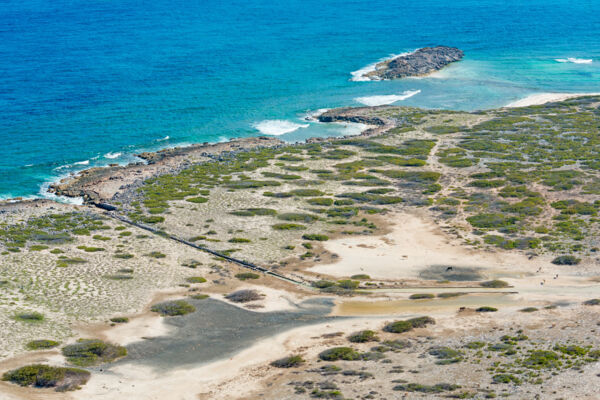 When in the area, you may also be interested in looking at the nearby site of the inlet to the Grey Salina. Although a rather minor feature, the ancient limestone stonework of this tiny salt pond feed canal is nevertheless beautiful, and a testament to the salt industry of days past.
Getting Here
Whale House Bay is a little difficult to access. No drivable paths exist to this beach, so it's necessary to walk over from the Long Bay beach track.
Map & Location
Last reviewed by an editor on 5 September 2018.