Grand Turk Taxis
Grand Turk, unlike some of our other islands, has plenty of taxis and you'll easily find one at the Grand Turk JAGS McCartney International Airport (GDT) or at the Grand Turk Cruise Center.
Understand
Most taxis are larger vans and many are Ford E-Series vehicles. They can carry up to 7 passengers, and around 5 if there is a large amount of luggage.
Many taxis on Grand Turk speed excessively over the 20 MPH island-wide speed limit. Pedestrians have been killed in the country (including on Providenciales) as a result. If your taxi is speeding, simply ask that the driver remain within the speed limit. There's no need to speed as it's a small island and maintaining a safe speed will add only a few mintutes to your journey.
Fares
Although there are statutory fares for certain routes, such as from the airport, these may not be adhered to. However, there is a fare schedule for the Grand Turk Taxi Association which applies to it's members. You are advised to agree on your fare before setting off. It's important that you clarify if the fee stated is per passenger or total. Some taxis state a fee that is per passenger, and tourists are then surprised when the total is multiples of that.
Fares from the Cruise Center
There is a set of fixed fares for the Grand Turk Cruise Center, but these are applicable only from the Cruise Center, not to the Cruise Center.
Taxi Companies
We recommend that you write down the number of a local taxi service in case one is needed while on your trip.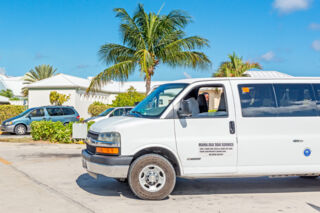 Mama Dea Taxi & Tour Servce
Mama Dea offers taxis and tour services on Grand Turk. Experience the sights and attractions of the island in air conditioned comfort. Complimentary Wi-Fi available in the vehicles.
Learn More
Patsy's Taxi & Tour Services
Informative taxi and island tours on Grand Turk by long-time local resident Patsy Taylor.
Learn More