Grand Turk Restaurants and Dining
Compared the extensive dining options on the island of Providenciales, Grand Turk has a limited selection of restaurants. The vast majority of visitors to the island are cruise ships guests who spend a few hours at the Grand Turk Cruise Center, so there's limited demand for many full-fledged restaurants.
Most restaurants are located in Cockburn Town near the oceanfront regions of Front Street, Duke Street and Queen Street. This area features some of the finest British Bermudian Colonial architecture in the Turks and Caicos, and offers a great atmosphere.
Restaurants near the Cruise Centre
There are two dining options close to the Grand Turk Cruise Center: Margaritaville, found inside the complex, and Jack's Shack, located a short walk up the Cruise Center Beach (SunRay Beach). Both of these restaurants are located near the coast, and both offer international favourites such as burgers, grilled chicken, sandwiches, bar fare and drinks. As may be expected, they tend to be quite crowded when operating.
When a cruise ship isn't in port, the atmosphere on the small island of Grand Turk changes dramatically, and establishments that cater mainly to cruise visitors often close. On such days, overnight vacation guests and those visiting the island on a day trip from Providenciales may find the open restaurant options to be limited to only a few places in Cockburn Town. Due to the cruise ship schedules, it's recommended that reservation be made for dinner.
Pizza and Take Away
Two restaurants on Grand Turk serve pizza: the outdoor garden at the Turks Head Inne, and Cool Beans restaurant at Over Back.
Great burgers, sandwiches and bar fare can be found at most restaurants on Grand Turk. Most establishments have children's menu as well, with fried chicken or fish fingers or sandwiches.
Turks and Caicos Cuisine
Grand Turk hosts a diversity of local flavours, and as to be expected for a Caribbean destination, many dishes incorporate seafood. Conch is the primary catch, and is commonly prepared either as fried conch fritters or as a salad. Restaurants do serve "freshly-caught" fish, but it may be imported, so confirm before ordering.
The difficult lives of early Turks and Caicos Islanders is reflected in some of the popular dishes, with "peas & hominy" being a common plate on the dinner table. Originally consisting of ground island maize and locally-grown beans or pigeon peas, this dish gradually was replaced by "peas and rice", utilizing imported rice as international commerce and imports increased.
Conch fritters and conch salad (which is made with raw conch) were not, as is popularly believed, traditional cuisine and are recent culinary additions.
Fresh local lobster is another option when it's in season from August to March, and is excellent grilled or baked.
Restaurants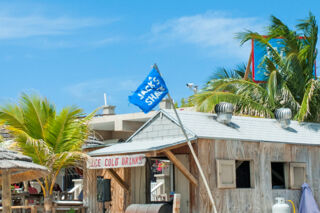 Located less than one mile up the beach north from the Cruise Center, this popular casual beachfront restaurant and bar serves local, Jamaican and international inspired grilled burgers, seafood, BBQ and jerk dishes.
Learn More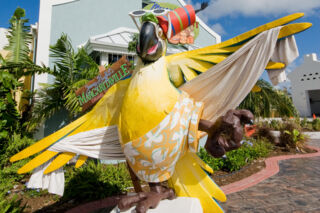 The Caribbean's largest Jimmy Buffet's Margaritaville. Open only when a cruise ship is in.
Learn More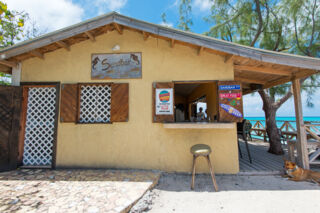 Casual beach front restaurant serving seafood and American fare. Open for lunch and dinner.
Learn More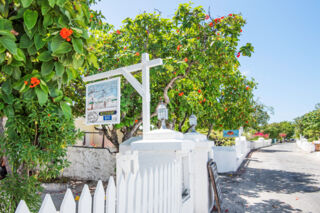 This restaurant at the Salt Raker Inn offers a blend of island and traditional continental fare. Open for breakfast, lunch and dinner, seven days a week.
Learn More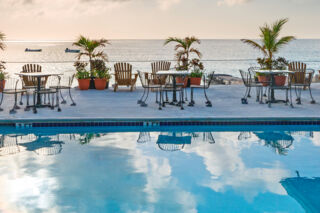 Hotel restaurant at Osprey Beach Hotel. Serves breakfast, lunch and dinner.
Learn More
Museum, gift shop and café centred on Grand Turk's historic salt industry. Free admission. Open only on days when a cruise ship is in.
Learn More