Grand Turk
Cruise Ship Travel Information
All cruise ships sailing to the Turks and Caicos stop only at the island of Grand Turk. It's not feasible for cruise ship guests to visit any other main island in the country due to time constraints.
Very little pre-planning is necessary for cruise ship arrivals. All visa and entry matters are handled by the cruise lines, so landing is simple.
Before You Arrive at Grand Turk
Before you stop at Grand Turk, we recommend that you see Top Things to Do for Cruise Visitors to Grand Turk and Things to Do in Grand Turk to determine how you'd like to spend your day. Depending on what you choose, you may have to pre-book an activity or a rental vehicle.
The Grand Turk Cruise Center
All cruise ships stop at the Grand Turk Cruise Center. This complex offers a pool, restaurant, shops, and more.
Getting Around
There's no public transport on Grand Turk.
If you've decided to rent a car, golf cart or scooter, see Getting Around Grand Turk and Driving in the Turks and Caicos Islands.
If you'd prefer to take a taxi, see Grand Turk Taxis.
You may want to consider printing a Grand Turk Map.
Restaurants and Dining
Threee restaurants are easily accessible from the Cruise Center: Margaritaville, The Beached Whale, and Jack's Shack (located off the complex, a short walk up the beach).
There are quite a few restaurants and grocery stores in the Cockburn Town area.
Gift and Souvenir Shopping
Much of the Cruise Center consists of tourist-oriented shops. Unfortunately, almost all of the merchandise available is mass-produced and re-branded items from Asia, or generic jewelry and Caribbean gifts.
If you're looking for an authentic gift or souvenir, the best choices are had at the Salt House, at the rather limited National Museum shop, or at one of the smaller stores in the oceanfront area of Cockburn Town.
Grand Turk Map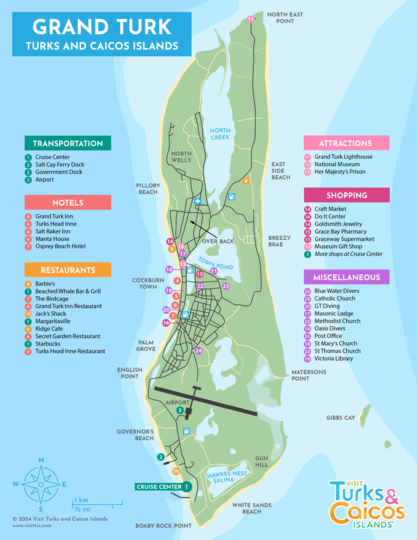 Cockburn Town Map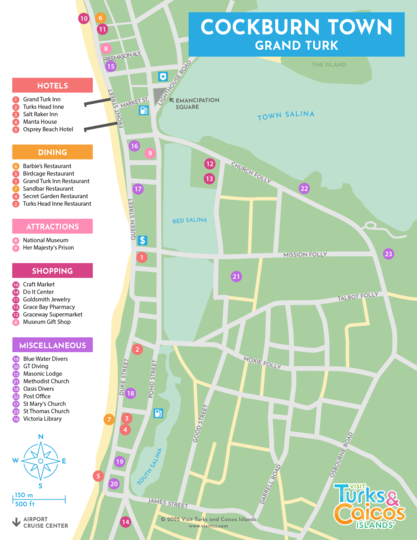 Cruise Center Map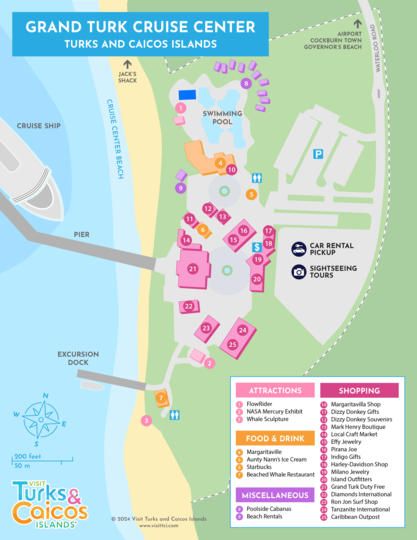 More Useful Information