Live Music and Bands in
The Turks & Caicos
Seeking a night out with live music? The island of Providenciales offers many regularly scheduled events at restaurants, bars, and outdoor venues where live music is played.
Most live music events in the Turks and Caicos are hosted by restaurants, where a band or sole musician plays on a specific night of the week. Genres represented range from Turks and Caicos Ripsaw and Rake n' Scrape styles, to Reggae and Rock. Calypso and steel drum music, although popular throughout much of the Caribbean, isn't common in the Turks and Caicos.
Live music is less common at lounge and nightclub establishments in the Turks and Caicos than at restaurants, which tend to rather play recorded music or have a DJ. It's easy to arrange live music and DJs for villas and private events.
Live Music Events and Venues
Da Conch Shack
Located on the beach in the community of Blue Hills, Da Conch Shack has been a popular seafood restaurant in the Turks and Caicos for more than a decade. Part of the attraction of the eatery is the ambiance and setting, with an array of tables under coconuts, on the beach, and on the decks overlooking the ocean. Da Conch Shack often has popular local artists playing in the afternoon on weekends.
Omar's Beach Hut
Omar's Beach Hut, located on the white sand and turquoise waters of Five Cays Beach, features reggae artist Stanley Roots every Saturday and Sunday afternoon.
The Deck at Seven Stars
The Deck at the Seven Stars luxury resort is an elegant beachfront restaurant. Tess Charles, local vocalist, performs regularly at the establishment.
Hemingway's
Hemingway's Restaurant is beachfront on Grace Bay at The Sands hotel, and the establishment typically hosts local musicians on several nights of the week, often on Thursday and Friday.
Danny Bouy's
Danny Bouy's, which is a sports bar and grill located in central Grace Bay, has live music from local artist Stanly Roots every Friday evening, and karaoke nights on Tuesdays and Thursdays where amateurs can exhibit their talent.
Turks and Caicos Bands and Musicians
Stanley Roots
Stanley Roots is another popular Turks and Caicos musician and singer, and plays a mix of reggae, hip hop, and rhythm and blues. He often plays at the beachfront island cuisine and seafood restaurants such as Omar's Beach Hut and Bugaloo's Conch Crawl.
ProVision
Based on the island of Providenciales, ProVision plays Turks and Caicos variants of regional and international favorites.
Weaponized Conch
Weaponized Conch is a Rock and Roll band that plays at venues that vary from sites such as H2O Resort on Long Bay Beach, to the adult-only and all-inclusive Club Med Turquoise on Grace Bay Beach.
Tess Charles
Local vocalist Tess Charles offers a unique take on popular songs, and sings at events, parties, and restaurants. She plays at The Palms on Friday, at The Deck at Seven Stars on Saturday, at the Ritz-Carlton on Sunday, and at COMO Parrot Cay Resort on Monday.
Jervon Laporte
Jervon Laporte is a sole saxophonist with Sounds of Sax, and plays for events including weddings, birthdays, and parties. He typically plays on Friday evenings at the exclusive Amanyara resort at Malcolm's Road Beach on the remote western coast of Providenciales.
Lovey Forbes
North Caicos native Lovey Forbes is one of the best-known musicians and composers in the Turks and Caicos. He often plays at hotels or at Miss B's island restaurant at Major Hill on North Caicos. His genre is the unique 'Combina' music, which a fusion of Turks and Caicos Ripsaw and popular songs.
ZGacoustics
ZGacoustics is a vocalist and guitar duo that plays popular songs spanning five decades. The two regularly perform at resorts on Providenciales, including the exclusive Amanyara at Northwest Point.
We Funk
We Funk is the country's best-known Junkanoo band. Junkanoo is a style of music and celebration that is typically exhibited at parades or events such as Maskanoo, which is held on Boxing Day on the day after Christmas. The music is heavily driven by drums and whistles, and performers wear vibrant costumes. We Funk usually plays at larger events such as the Fish Fry, Maskanoo, and at some island cuisine restaurants.
Qband Lynks
For a mix of reggae and island sounds, Qband Lynks is often seen at events such as beach bonfires and fish fries held at some of our beachfront resorts including Wymara Resort, as well as parties and weddings.
Restaurants and Bars With Live Music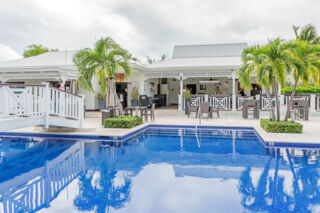 Discover seafood and international dishes at Pelican Bay Restaurant, located at Royal West Indies Resort on Grace Bay Beach.
Learn More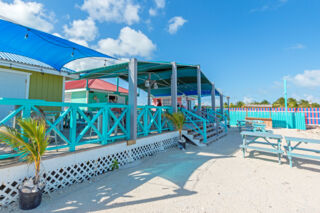 Omar's Beach Hut is a popular beachfront Jamaican and Island Cuisine restaurant, and is located at the turquoise waters of Five Cays Beach. The restaurant specializes in fresh seafood, including fish, conch, and lobster.
Learn More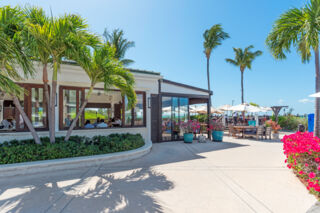 Hemingway's is a popular beachfront restaurant located at The Sands resort on Grace Bay Beach. Enjoy a wide menu of seafood, bar and grill fare, and dinner dishes. Open for breakfast, lunch, and dinner.
Learn More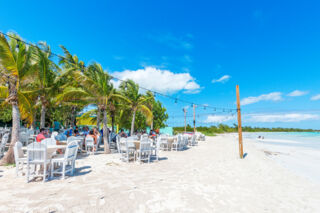 Bugaloo's Conch Crawl is one of the best-known restaurants in the Turks and Caicos. Located on picturesque Five Cays Beach, the restaurants features seafood and conch dishes, a great location, live music, and dining in a coconut grove, on the beach, and in the ocean.
Learn More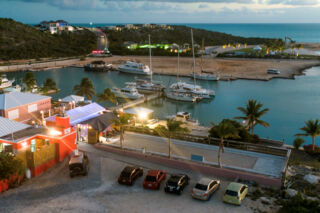 Bob's Bar is an upscale casual restaurant and bar overlooking Southside Marina, near the Venetian Road and Turtle Tail area of Providenciales. The establishment offers salads, sandwiches, burgers, pizzas, drinks, a fun atmosphere, and great views.
Learn More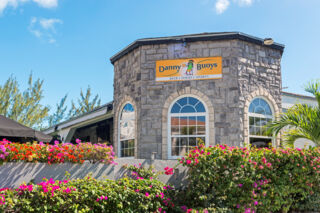 Found in Grace Bay and within walking distance of many of the resorts, Danny Buoy's is an Irish pub themed restaurant and bar. Live music on Wednesdays and karaoke on Tuesdays and Thursdays.
Learn More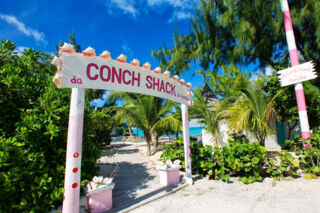 This popular open-air beachfront restaurant specializes in locally harvested conch, seafood and Caribbean dishes including jerk chicken and ribs. Local bands play every Reggae Wednesday. House-made desserts include Key Lime Pie, Ginger Cheesecake and Rum Cake. Family and group friendly.
Learn More