Turks and Caicos
Ride-Hailing
Update: Conch Cab service is suspended due to a lack of drivers. No new launch date has been announced. There are no other ride-hailing operators in the islands.
The Turks and Caicos is a small country, and transport options are limited when compared to many other destinations. There's no bus or train service here, and for visitors, the options for getting around are mainly limited to the Conch Cab ride-hailing service, rental cars, a private car service, or a taxi.
Conch Cab
Conch Cab is the foremost ride-hailing service in the Turks and Caicos, and features an easy-to-use website, great rates, live car tracking, and safe and comfortable rides. Conch Cabs are easy to spot, with their signature giant conch shell and unique styling.
Rides are hailed via the conch.cab website on a mobile device, and there's no app to install. Fares are shown prior to rides being booked. Rates are based on zones, with the best fares available in central Grace Bay.
Conch Cabs are not taxis, and operate sedan cars rather than the large passenger vans that taxis use.
Due to government restrictions on the Community Cab class of transportation licenses, Conch Cabs are not available at the Providenciales International Airport.
Conch Cab Zone Map
Is Uber in Turks and Caicos?
Uber and Lyft are not available in the Turks and Caicos. Conch Cab is a local ride-hailing service that functions like Uber.
Local Ride-Hailing Services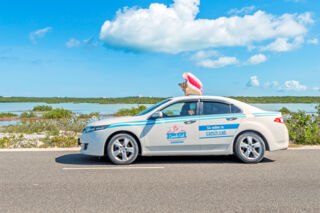 Conch Cab is an on-demand ride hailing service available at Grace Bay and central Providenciales in the Turks and Caicos. Ride can be hailed easily and quickly online, with transparent rates and live car location updates via an app website.