Sports and Activities on Grand Turk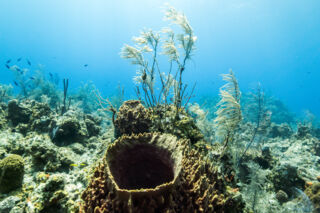 Grand Turk offers some truly exceptional diving. What sets Grand Turk apart from other destinations is the exceptional coral walls. In places, it drops from thirty feet down to depths of more than seven thousand feet, usually only a few hundred feet from the beach.
Learn More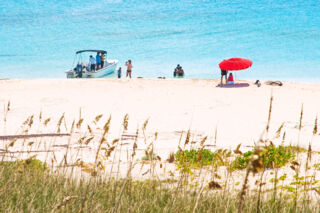 Boat Charters and Excursions
The cruise center also offers several different boat trips and cruises to the surrounding scenic beaches and small cays, and for snorkeling and fishing. These excursions can get crowded at times.
Learn More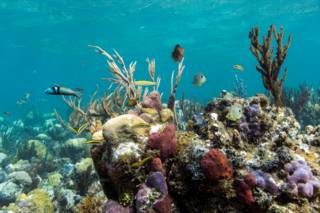 Insider's guide to beach and shore snorkelling on the island of Grand Turk. Information for cruise ship tourists, including reef maps and beach accesses.
Learn More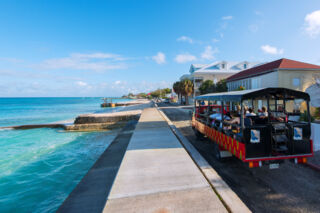 Island Tours and Excursions
Sit back and enjoy a narrated tour of Grand Turk. You'll see the main sights, old Cockburn Town, the beaches and the Lighthouse. Choices include open-air trucks, small buses and taxis.
Learn More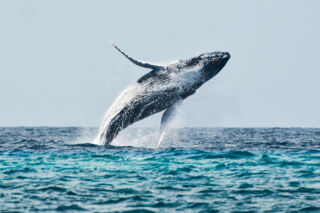 If you're planning to visit during the winter months, definitely consider a whale watching excursion. Seeing humpback whales close up in their natural environment is an unforgettable experience.
Learn More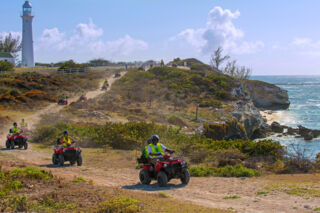 Join a local guide on a tour around Grand Turk. Tours are designed to fit within the schedule of cruise visitors and free pick-up and drop-off is included. Tours stop at all of Grand Turk's major attractions, and include some fun off-road driving.
Learn More
See the landmarks, reefs, wildlife and salinas of Grand Turk on a narrated helicopter tour. The beautiful hues of the ocean are especially impressive from the air, and you'll likely see stingrays, sharks, or some of the other larger sea animals common to the country.
Learn More
Ride around the small island of Grand Turk on off-road Segways. Tours start in the Cockburn Town area and take you down historic Front Street and around the salt salinas.
Learn More
Explore the wilds and wade in the turquoise ocean on a Grand Turk guided horseback riding excursions. See the Lighthouse, wetlands of North Creek and East Side Beach.
Learn More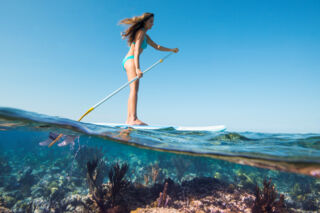 North Creek offers the best location for paddle-boarding on Grand Turk, but the other islands in the country provide vastly better experiences.
Learn More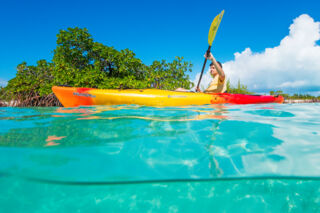 Transportation is provided to the inland wetlands area of North Creek on Grand Turk where this three hour adventure begins. The kayaks have clear bottoms so you can see what's going on below. This excursion is completely guided and includes a basic eco tour on land.
Learn More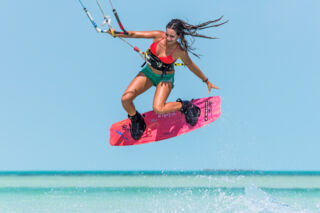 This popular new water sport of kiteboarding is one of the most exhilarating ways to experience the spectacular waters of the Turks and Caicos.
Learn More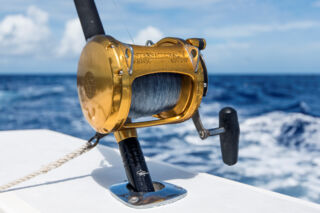 Excellent sport fishing, bottom reef fishing and bone fishing can all be found within a day's trip of Grand Turk. The fishing packages sold by the cruise lines tend to be crowded reef fishing trips, so you may be better off with a custom arrangement if you're an enthusiast.
Learn More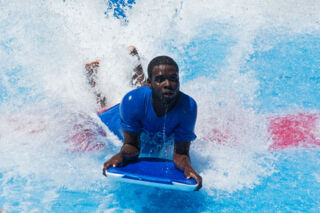 The FlowRider is a relatively new attraction at the cruise center. Water is jetted over a pre-formed cushioned surface to create an artificial surfing attraction. Both stand-up surfing and body-boarding is possible. Spaces are limited, so book in advance.
Learn More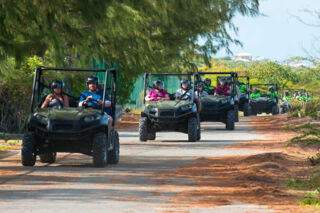 The dune buggy tour is a guided excursion in tubular frame vehicles to the main sights on Grand Turk. Each dune buggy can carry two people. There's not really any off-road driving on this tour, but it's a unique way to see the island. Drivers must be a minimum of 18 years old, and have a valid driver's license. It may be more cost effective and fun to rent a scooter and explore on your own.
Learn More
SNUBA is a great and simple way to experience the reefs and aquatic life of Grand Turk. The system is a cross between snorkeling and scuba diving and can be enjoyed easily by inexperienced divers after the brief introduction. SNUBA works by connecting the diver by air-line to tanks on the surface.
Learn More
The Fun and Exciting Activities of Grand Turk!
There's a lot to do on and in the waters of Grand Turk. The spectacular wall diving found close off the coast is what started Grand Turk's tourism industry, but snorkelling, fishing and kayaking have become just as popular.
During the winter months, whales add another attraction to Grand Turk. During their annual migration, humpback whales spend a bit of time in the Turks Islands Passage (the deep channel that separates the Turks Islands from the Caicos Islands) and can often be spotted not far off the coast. The ocean water in the Turks and Caicos is always warm, so you may even have a chance to snorkel with them!
Cruise Ship Visitors
Those stopping over on a cruise ship typically book "shore excursions" through their cruise line. Arranging such a trip is easy, however, most schedules simply leave very little time for anything else.
Many of the organized cruise ship shore excursions are competitively priced when compared to the independent offerings, yet group size and boat density is also much greater. For some water sports, this can certainly be a detraction.
What's the Top Activity?
Due to the importance, we actually have an article dedicated to this subject.
Simply: If you're into diving or snorkelling, consider booking such an excursion. For most others, independently renting a car and exploring the beaches and historical sights of Grand Turk will probably be the most appealing (and cost effective!) way of spending the day. You'll be able to spend the day at the beaches and sites that actually interest you, and not waste time waiting for others.
For those who want to enjoy the beach, renting a vehicle will allow you to get away from the crowded Cruise Center Beach (SunRay Beach), and visit the superior Governor's Beach, Cockburn Town Beach and Pillory Beach. You'll also be able to stock up on refreshments and other supplies at a local shop and avoid the price-gouging at the Cruise Center!
The small island of Grand Turk offers an aspect surprisingly rare in the Caribbean; a destination that's both easy and safe to navigate. Kayaking and stand up paddle boarding are definitely fun, however the truth is that the wetlands of Grand Turk visited on the guided tours simply don't compare to those found in the larger Caicos Islands. There isn't much wildlife to see, however renting equipment for a couple hours and paddling the historical Cockburn Town coast is quite a pleasant and in our opinion a preferable experience.
If you're staying overnight on Grand Turk and are interested in water sports, consider the Bohio Dive Resort, which maintains an assortment of water sport equipment for guest use, including kayaks, paddle boards, and a Hobie Cay sailboat.
Island Tours
There's a wide selection of guided tours to choose from, utilizing Segways, ATVs, 4x4 buggies, open air trucks and more. Most of these excursions follow roughly the same route, stopping at Governor's Beach, the old Cockburn Town sights, the town salinas, Pillory Beach, and the Lighthouse.
Largely confined to the northeast coast and bluffs, horseback riding is another option. Rides take on place on East Side Beach (where you can wade in the ocean if you'd like!) and continue overland to the wetlands of North Creek.
Key Points
Some water sports companies are not licenced. You will typically have no legal recourse in the event of an accident. This is especially common with banana boat and other wake ride operators. You may want to confirm an operator is licenced before using their services.
Some water sports companies do not carry insurance or have inadequate insurance. This is especially common with banana boat and other wake ride operators. In the event of an accident, you will be responsible for your complete medical costs. If you have health insurance, you should be aware that you may not be covered for sports accidents and accidents outside of your home country. In additional, travel insurance does not usually cover sports accidents. You may want to confirm an operator is properly insured before using their services.