Providenciales
Bars, Pubs, & Lounges
Providenciales offers a wide range of bars and lounges. Most establishments are found in the Grace Bay Beach area and on the resort properties, or are within easy walking distance.
The Turks and Caicos doesn't have the nightlife and parties of many other Caribbean destinations, yet there's always a lively local place to be found.
As is the case with many food items, drink prices are higher here than at other regional destinations such as the Dominican Republic. Expect to pay around $8 for a pint or bottle of beer. Cocktails and mixed drinks will usually be $10-15. Local Turk's Head beer is typically the least expensive option.
Drinking Age in Turks and Caicos
The drinking age in the Turks and Caicos is 18. Shops and liquor stores may ask to see IDs for persons that appear to be under 18 or 21.
Turk's Head Beer
The Turks and Caicos features one locally brewed and produced beer: Turk's Head. It's brewed in three beer variants: lager, amber, and an IPA (Island Hopping Ale).
Beer enthusiasts may also be interested in the factory tour, or may simply want to stock up at the source!
Bambarra Rum
Many of the local bars stock Bambarra rum, which is locally mixed, bottled and distributed. It's produced in an assortment of labels, such as Gold, Silver and Coconut, as well as canned mixed drinks with tropical flavors (such as cranberry-vokda mixes or rum and coke).
Beachfront Settings and Local Vibes
Beachfront bar and restaurants can be found on Grace Bay and at the residential settlements of Blue Hills and Five Cays, and these places are a great place to watch the sunset.
Da Conch Shack is a popular island restaurant and bar on the beach in the old settlement of Blue Hills. The fare served is Caribbean and local favorites that primarily focus on seafood, and there's a wide range of drinks and cocktails served, including their famous rum punch.
Bugaloo's Conch Crawl is another island favorite and is found in the fishing village of Five Cays on the southern side coast. There's always something going on here, from live music to watching the fishermen bring in the day's catch.
Some luxury properties on Grace Bay offer an elegant setting for drinks and the sunset. The new Ritz-Carlton resort is home to three bars: one at BLT Steak, the beachfront Coralli, and a spacious and beautiful lobby bar. Seven Stars likewise has both a beachfront restaurant and bar and an indoor and air-conditioned bar at their gourmet Seven restaurant. Nearby at the Grace Bay Club is Infinity, which offers another upscale bar and dining experience.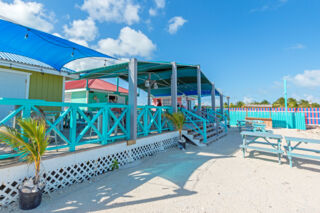 Omar's Beach Hut is a popular beachfront Jamaican and Island Cuisine restaurant, and is located at the turquoise waters of Five Cays Beach. The restaurant specializes in fresh seafood, including fish, conch, and lobster.
Learn More
A new breed of experiential dining we like to call 'eatertainment' is served up at Fire & Ice. Start your dinner with some easy sipping drinks at the Ice Bar. The dinner menu comprises a series of fresh Mediterranean and Caribbean items ranging from salads, to fresh fish and freshly grilled treats.
Learn More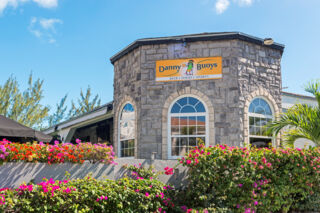 Found in Grace Bay and within walking distance of many of the resorts, Danny Buoy's is an Irish pub themed restaurant and bar. Live music on Wednesdays and karaoke on Tuesdays and Thursdays.
Learn More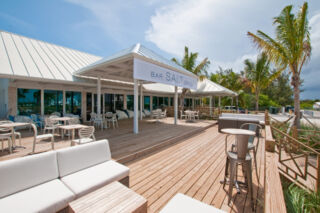 Salt Bar & Grill in Leeward has a wooden sun deck speckled with comfortable beanbags, giving boating aficionados a true sensation of having arrived. The menu appeals to all guests, offering bar snacks like conch bites, healthy salads, burgers and paninis. Open daily from 10 am until 10 pm.
Learn More
This tranquil restaurant is found at the award-winning Royal Turks and Caicos Golf Club and is perfect for breakfast, lunch and dinner. The menu includes a great selection of international favorites and grilled dishes. Choose from indoor and outdoor seating.
Learn More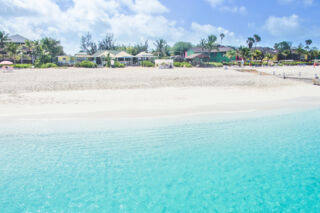 Casual beachfront café dining. Located between Ocean Club Resort and Club Med.
Learn More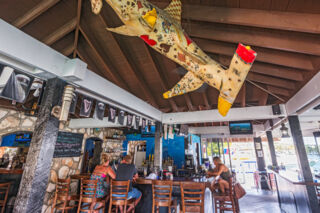 Sharkbite Bar and Grill is located on the water at Turtle Cove Marina. This popular casual restaurant serves seafood, wings, burgers, sandwiches, and much more.
Learn More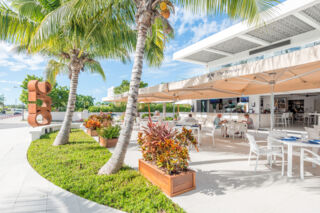 The Terrace on Grace Bay is an elegant casual bistro located in the heart of Grace Bay at the One Season plaza. Enjoy steaks, sandwiches, salads, burgers, local draft beers, mixed drinks, and more.
Learn More
Last reviewed by an editor on 17 June 2022.