Grand Turk
Car, Jeep, & Scooter Rentals
Whether you're stopping over on Grand Turk from a cruise ship or are staying overnight on the island, a rental car is the easiest way to get around.
What Type of Vehicle is Best?
As a cruise ship stop, there's a great selection of vehicles to choose from on Grand Turk. There are cars, jeeps, golf carts, scooters, 4x4 buggies, and ATVs.
The least expensive non-scooter option is the typical compact car, which is also usually the most practical choice due to its air conditioning and sun protection, and rates start at $80-100 per day.
Scooters, carts, and buggies are undeniably fun, but the downsides are a higher rental cost and no protection from the intense Turks and Caicos sun. Scooters start at about $60 per day, and golf carts and other vehicles begin at about $80.
Unlike the other islands in the Turks and Caicos, there's very little off-road driving on Grand Turk, so a 4x4 or jeep isn't a necessity. Grand Turk does have some unpaved roads, yet they are traversable (albeit at slow speeds at some spots!) by any rental.
Please stay on the roads and do not drive on the beach, on salinas, or wetland mud flats. It's easy to get stuck in these unstable environments, and you'll cause lasting damage by driving on them.
Larger luxury SUVs and vans are also offered in limited quantities as well, but should be booked well in advance to ensure availability.
Car rental pickup and drop off typically occurs outside the entrance to the interior pedestrian plaza of the Grand Turk Cruise Center in the case of cruise visitors, or outside the small terminal at the Grand Turk JAGS McCartney International Airport (GDT).
Rental Requirements
The car rental requirements of most of the Grand Turk rental companies is quite relaxed compared to what's common in the United States and other destinations.
Drivers must have a valid driver's license. The minimum rental age for cars and jeeps is usually 21, a few businesses accept a minimum age of 18. The minimum rental age for scooters and golf carts is commonly 18.
A 50% percent deposit may be required by some rental agencies, but cash is typically accepted for the balance when picking up the rental in person.
Navigation and Driving
The island of Grand Turk is a safe and easy destination to explore by car. You can't get lost, there are no dangerous parts of the island, and navigation is quite linear. Many of the island's roads are paved, especially to the main sights and destinations.
Be aware that donkeys, ponies, and cattle roam free on Grand Turk and can stray onto roads. Most roads on the island have a speed limit of 20 mph (32 km/h), and the maximum speed limit on the island is 40 mph (65 km/h) on Lighthouse Road and Airport Road.
The greatest consideration is that we drive on the left in the Turks and Caicos—a legacy from our heritage as a British Overseas Territory.
Be aware that many of the narrow streets in the oceanfront region of Cockburn Town are one way.
Parking is readily available and free throughout Grand Turk, including at the Grand Turk Cruise Center and at the Grand Turk Airport.
Car Rental Companies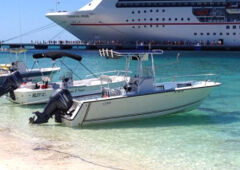 Wet Money Tours & Rentals
Local water sports company specializing in snorkeling tours, whale watching, Gibbs Cay trips and fishing. Car, jeep, golf cart and scooter rentals are also offered. Daily and weekly rates available, with pick up outside the Grand Turk Cruise Center gates.
Tony's Rentals offers scooter, jeep, car, bicycle and jet ski rentals on Grand Turk.