Grand Turk
Hotels, Resorts, & Villas
The accommodations offered on Grand Turk are generally confined to small boutique hotels and vacation rental villas. Many of the hotels and villas offer amenities that complement a laid-back vacation, such as breakfast or the complimentary use of bicycles, snorkel gear, and water sports equipment.
Several of the hotels offer special dive packages, so if you're visiting Grand Turk for the reefs, be sure to check them out. Likewise, the small yet boutique Bohio Dive Resort offers both dive and non-diving all-inclusive packages that include dining, accommodation, and a wide range of amenities.
Accommodation Locations
Grand Turk is a relatively small island, and many accommodations are situated on or near one of the island's beaches.
The majority of lodgings are found on the central west coast, often quite close to either English Point Beach, Cockburn Town Beach, or Pillory Beach.
Several vacation rental villas and guest houses are found the bluffs off of Light House Road. This area is located on the northeast side of the island, and offers a bit more seclusion.
For those staying for extended periods of time, inland apartment rentals are available as well.
If your chosen place to stay is located in or quite near to Cockburn Town, you'll likely be able to do without a rental vehicle or taxi for at least most of your stay. However, most of the other regions on Grand Turk are a bit too far of a walk from the restaurants and supermarkets to be pleasant, so a rental car is typically necessary.
How to Get the Best Rates
You'll likely get the best rate if you directly contact the accommodation via email or telephone. Before doing so, it however definitely makes sense to do a bit of online research on the prices so as to have a bargaining point.
Deposits will usually be required upon booking (up to 25%) and the balance on arrival. Daily rates range from about $90 a night for a simple villa up to $300 for a full service hotel room.
Keep in mind that some vacation rentals may simply be a single room or suite, whereas others are a full-fledged and stand-alone villa on the beach.
Rental car rates are comparatively high on Grand Turk. Some vacation rentals include the usage of a vehicle, which can potentially save about $80 per day in rental car fees.
What's the Best Time of Year to Stay on Grand Turk?
The answer depends on how you'd like to spend your vacation. Due to the freezing weather to the north, the Turks and Caicos is the busiest during the winter months. Room and activities rates are lowest in early and late summer.
For divers, the winter months tend to have better sightings of the larger sea creatures such as manta rays, leatherback turtles, whales and sharks. However, the summer months experience calmer weather (at least when a tropical depression isn't near!), which is definitely optimal for snorkeling and diving.
For some outdoor activities, the temperature during the peak summer months of July, August and September can be oppressive.
Unlike some of the other islands in the Turks and Caicos, mosquitoes are rarely an issue on Grand Turk due to the island's small size, and the lack of sheltering heavy vegetation.
Cockburn Town Map
Three charming beachfront units nestled side-by-side, each with 2 bedrooms, 1 bath, a fully equipped kitchen, and a dining/living room. Located directly on the beach with a spacious covered and comfortably furnished veranda. Walking distance to town and restaurants.
Learn More
Five ocean front suites with full kitchens. Located right in the center of historical Cockburn Town.
Learn More
Reef House is located directly on Pillory Beach and is composed of two 750 sq ft suites which have been designed to treat you to a memorable vacation. Pristine white sand and amazing turquoise waters make it ideal for swimming, snorkeling or just hanging out. It's like having your very own private beach.
Learn More
Located on Pillory Beach, Beachside Bungalow is a two-unit duplex, with each unit having 2 bedrooms and 2 baths. Master bedrooms have a king bed and secondary bedrooms have two twins. Location is within a short walk to a grocery store and restaurant. Recently refurbished with new appliances and furniture.
Learn More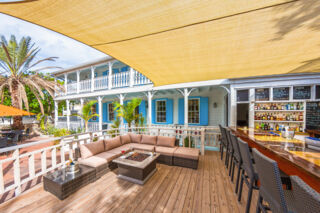 Turks Head Inne, built 185 years ago and recently completely refurbished, is centrally located in Cockburn Town. A variety of rooms are offered, from bunks to luxury suites. Also onsite is a bar, restaurant, and pizza garden.
Learn More
This dive resort offers twelve rooms and four suites on the secluded Pillory Beach. An excellent choice for divers, this resort offers boat and shore diving, PADI courses, water sports and more.
Learn More
This tranquil rental villa offers five modern suite units with complete kitchens. Overlooking the beautiful North Creek from the hills on the north east of Grand Turk, it's only a couple minute drive to the main sights and beaches of Grand Turk.
Learn More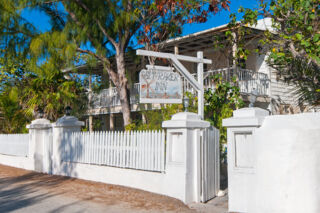 This main building in this small beach front hotel was built in the 1850's.
Learn More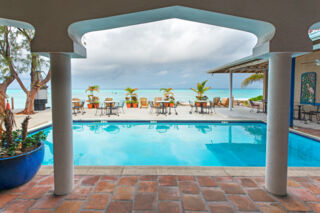 The oldest still operating hotel on Grand Turk, this little beachfront 37 room resort is located on the south end of old Cockburn Town.
Learn More
Last reviewed by an editor on 19 July 2021.