Real Estate on
Providenciales
The island of Providenciales in the Turks and Caicos is fast becoming one of the hottest luxury real estate locations in the Caribbean. There's a great selection of listings on the market, which range from completed homes and condos, vacant land, including beachfront, oceanfront, and inland properties, as well as parcels suitable for commercial development.
There are many considerations when purchasing a home or real estate on Providenciales. Primary factors are of course location, whether a property has beach or ocean frontage, price, and desired parcel size. However, it's crucial to also evaluate elements such as road access, surrounding current development and future changes that may occur, and how susceptible a property may be to storms and flooding.
Real estate on Providenciales is typically freehold, although there may be title restrictions such as building height limits or mandatory participation in a homeowner's association (HOA). Most condominiums and multi-tenant residences have some form of a strata title, with members each owning a strata lot and a share of the strata corporation. As may be expected, these types of properties usually have annual fees and dues, normally assessed on square footage or the number of bedrooms rate.
The Turks and Caicos does not have any proper tax, which makes our archipelago an excellent choice for luxury real estate investment, and a destination for vacation homes.
Beachfront and Ocean Front Real Estate
Beachfront and oceanfront real estate, as may be expected, commands a premium price in the Turks and Caicos, yet there's a still a great selection of homes and land still available. Before you begin browsing real estate listings, it's best to review the beaches on Providenciales and the various communities and areas.
World-famous Grace Bay Beach, due to the general high demand and desirability, doesn't have much vacant land available for sale, especially parcels which are suitable for single-family homes or villas. The Bight Beach, which is adjacent on the west to Grace Bay, and Leeward Beach, adjacent to the East, do both have land and homes on the market.
Providenciales is home to many spectacular beaches that are well worth looking at, including Long Bay, Sapodilla Bay, Taylor Bay, Turtle Tail, Turtle Cove, and Smith's Reef.
Canal and Waterfront Real Estate
A possible alternative to beachfront real estate is either canal-front or waterfront. Waterfront options include the many natural marine ponds and wetlands on the island, as well as the incredible Chalk Sound National Park. Several communities on Providenciales have canal systems, including Leeward, Turtle Cove, Long Bay, Discovery Bay, and Cooper Jack.
Turtle Cove and the Leeward residential areas tend to be a bit more exclusive than the Cooper Jack and Discovery Bay regions, which are located on the southeastern quadrant of Providenciales. The canals at Leeward tend to be the most accessible for boats and vessels, and have easy access to a marina with fuel.
Long Bay has a single canal that runs adjacent to Juba Sound. This system isn't as refined as those in Leeward and Turtle Cove, and depth decreases further up the canal.
Several canals lead through the Discovery Bay and Venetian Road area. Be advised that not all canals at these two residential areas are actually connected to the ocean, as some systems were dredged decades ago yet were never completed. It's uncertain what the future regarding them is.
Homes for Sale
Of the islands in the Turks and Caicos, Providenciales supports by far the most development, and typically there are around 100-200 single-family homes on the market at any given time. There are properties ranging from relatively modest houses in communities in the central and western regions of the island, to luxurious beachfront mansions. A great place to start your search for the perfect home is to understand the various communities and districts on Providenciales.
Buy a Home, or Purchase Vacant Real Estate and Build?
Providenciales (along with the cays including Parrot Cay and Pine Cay) have upper stamp duty rates of 10%. This means that if you're buying a house, you are effectively paying a 10% government tax on the structure itself (although stamp duty doesn't apply to chattels, such as furniture and appliances).
However, commissions on vacant land is 10%, compared to 6.5% for developed properties (rates mandated by the Turks and Caicos Real Estate Association—TCREA).
Condominiums, Townhouses, and Multi-Tenant Units
The majority of condominiums are located on or near Grace Bay Beach. Townhouses, similar in function to condominiums, exist at the Royal Turks and Caicos Golf Club, inland within the Grace Bay area, and a few other locations on Providenciales. Many of the beachfront Grace Bay condos outwardly function as a resort. Units may be privately owned, yet bookings and guest relations are overseen by a management organization.
Specific Location Considerations
The Providenciales Solid Waste Facility—The Dump
The landfill on Providenciales, locally known as the dump, experiences fires from time to time. These can cause massive amounts of smoke and toxic fumes, depending on wind direction.
Airport Noise
Flight traffic at the Providenciales International Airport (PLS) can create substantial noise. This is generally low in the Chalk Sound area, but you are advised to wait for air traffic at your specific location to get a better understanding of how it'll affect you.
Existence of Public Utilities
Some subdivisions and new residential communities on Providenciales are being marketed and sold without any access to electricity, water, or telecommunications services. Be sure to check the status of utilities for any real estate you're interested in. Even a short distance required for additional above/below ground utilities can easily run into tens of thousands of dollars.
Digicel has recently installed fiber across the island of Providenciales, so you may wish to check for availability at your location. Flow operates ADSL over existing copper telephone lines along with fiber.
Poor Planning and the Lack of Planning Enforcement
A significant consideration is poor planning and zoning enforcement in the Turks and Caicos. Zoning and density limitations are very weakly enforced. In many places in the Turks and Caicos and especially on the island of Providenciales, neighborhoods that are low-density residential and are historically developed as such, see specific parcels and projects for commercial development receive planning approval. In many cases, hotels, resorts, industrial, or commercial mixed-use development occurs at areas that primarily support and are zoned for single-family residential structures. In practice, initially pleasant neighborhoods can rapidly transform into undesirable areas.
Real Estate Agents and Listings
All real estate agents and agencies are part of the Turks and Caicos Real Estate Association (TCREA). This gives any member access to the MLS (Multi Listing Service). You should choose an agent based on whom you're comfortable dealing with and who understands what you're exactly looking for. They'll be able to consult the database of all properties listed to help find what you want, even if it's listed with another agent.
It is sometimes possible to find land and properties for sale by owner, however, this is uncommon.
Residency
Persons investing in excess of $1,000,000 U.S. dollars in land or a house may qualify for a permanent residence certificate. You are advised to speak with a qualified lawyer to see how this applies to you, and other requirements.
Persons investing less than $1,000,000 may be required to obtain a residency permit, if they wish to exceed the maximum duration of their tourist visa. Note that persons entering the TCI for tourism purposes, or those on a residency permit, are not eligible to work and require a work permit.
Commercial Space
Providenciales has a large selection of commercial units and office space, much of which is located within the Grace Bay area.
Real Estate and Development Projects on Providenciales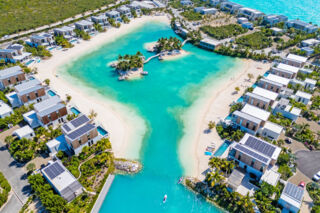 South Bank is an exciting new luxury development at Long Bay on Providenciales. This elegant waterfront and marina community accommodates contemporary private villas, which overlook the exquisite turquoise hues of the Caicos Banks.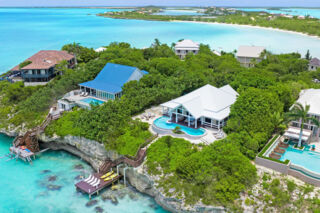 Grace Bay Realty is an affiliate of Forbes Global Properties and is one of the leading real estate brokers in the Turks and Caicos. With more than 20 years' experience in the industry, their team can advise on all aspects of the buying and selling process, and assist clients in finding their perfect property.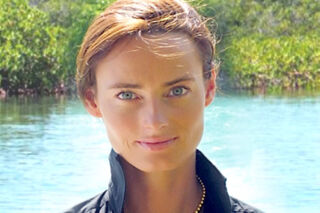 Turks and Caicos Property
Led by owner and broker Bernadette Hunt, Turks and Caicos Property was established in 2000 and is a leading broker of premier real estate, with a wide portfolio of luxury homes, vacant land, and beachfront condos.