Turks and Caicos
Property Managers
The Turks and Caicos and the island of Providenciales has a very active vacation rental market. It's common for persons from the US, UK, and Canada to purchase a vacation home in the Turks and Caicos as an investment, and then have the property rented out for short-term stays as a source of income.
It's often impossible for property owners to be in the Turks and Caicos throughout the year. The services of a property manager are used to oversee management, landscaping, housekeeping, and guest relations for short-term stays. In addition, managers can ensure that government requirements for tourism use are met.
Vacations Rentals or Private Home?
When contacting potential managers, it should be clarified if the property will be rented out short term, or if it'll only be a private vacation home for the owners. It may appear that the duties of the manager are similar in both cases, yet in practice, there are quite different incentives and priorities.
Managers that oversee both private homes and short term rental properties typically won't offer discounts on their services as the workload is much the same. Additionally, private home management doesn't bring the added benefit of lucrative commissions on rentals. Repairs, oversight of landscaping, and preparing for storms can be very time-consuming, and is required whether a property is offered on the rental market or not.
Fee Schedules
Property management fees typically are an accumulation of a set monthly rate that includes the oversight and payment of ongoing costs such as utilities and landscaping, any expenses that the property incurs, and a commission on rentals.
What to Look for in a Property Manager
Website Quality
High-quality and responsive websites are a necessity, yet many property managers don't have them. It's true that many bookings are made through the major online travel agents (OTAs), yet websites serve several purposes, including greatly increasing the chance of direct bookings by guests. A quality and functional website is also indicative that the property manager takes an active interest in marketing.
Direct bookings often result in the property owner netting more, and will help avoid some of the large online travel agents, which typically have practices that strongly favor their own interests rather than property owners. This is especially apparent in cases of damage, atypical cancellations, and fraud.
Response Speed
One of the defining traits of an efficient travel booking agent is the speed at which they respond to inquiries. The major online agents and booking websites understand this, and responses are often within minutes. Fast responses often result in more bookings.
Reputation
The Turks and Caicos is a small island nation, and almost all rental activity occurs on Providenciales, which effectively has the population of a small town. Visit and ask around. Almost everyone is a friend or family member of a property manager (which is who they'll likely recommend!), yet if you talk to enough people, a general trend of who are competent managers should emerge. Ask which houses and properties they manage, and consider checking the exterior to see if they are maintained well. Likewise, look at a property's online presence.
Portfolio of Properties
One of the best indications of the efficacy of a manager is their portfolio, and a lot can be determined from what's shown on a property manager's website.
Another important detail is the quality of photos. Great photos make a tremendous difference in getting bookings, and good managers are very well aware of this fact, and will insist that owners have competent commercial photographers create images.
It's important to distinguish between properties that a manager actually oversees the operations of, and those that they simply have a booking arrangement with, as some managers will list villas that they don't actually manage.
Some of the more successful property managers in the Turks and Caicos are quite busy, and simply may not have the time or inclination to take on more work. Generally, beachfront properties, and those in areas such as Grace Bay Beach, Leeward Beach, Long Bay Beach, Smith's Reef, Sapodilla Bay, Taylor Bay, and Turtle Tail will be given preference over inland villas.
Established Protocols
If a property will be offered as a short-term vacation rental, it can be a good sign if a prospective manager has established protocols and requirements regarding new properties and clients. It's a common practice for managers to require a significant deposit upon undertaking the care of a new property, which is necessary for repairs, license fees, maintenance, and outfitting to ensure properties are ready for guests.
Due to experience with guests and home maintenance, a good manager should have strong recommendations on interior design elements, white goods, and semi-consumable items such as towels, linens, and recreational equipment.
Follow the Law and Ethical Practices
The government in the Turks and Caicos requires licenses, certifications, and inspections for a property to be legally operated for vacation rentals. Unfortunately, as is often the case when dealing with the government, getting such approvals can be tedious, difficult, and time-consuming.
Property managers have the incentive to get rentals on the market as fast as possible. If managers outline a process and timeline that appears onerous, it's because that's the reality of doing business in the Turks and Caicos. If managers suggest that corners can be cut or certain practices can be put off or avoided, they're likely trying to lock down the deal and keep you from going to another management company. In many cases, property owners suffer the risk when everything isn't done right. Be advised the vacation rentals are subject to audits (to ensure correct amounts of tax is paid), and records must be maintained for 7 years.
Another subtle yet telling indication is photos. High-quality property photos are a necessity for marketing a property, yet are very expensive to produce. Unethical managers will often steal photos from competitors, but in many cases won't have access to all original photos. Look for full galleries of high-resolution images.
Hurricanes and Emergencies
One critical job of a property manager is to prepare properties for hurricanes, and secure them afterward. A significant consideration is that when a hurricane strike may be imminent, property managers tend to be overwhelmed, and those that are not organized tend to not sufficiently prepare, thus incurring unnecessary repair and replacement expenses.
Property agents that prepare well help owners avoid issues such as lost or damaged outdoor furniture and water sports equipment, interior water damage, and very costly window replacement.
Building your home correctly will go a very long way toward preventing hurricane damage and increasing longevity.
Property Managers in Turks and Caicos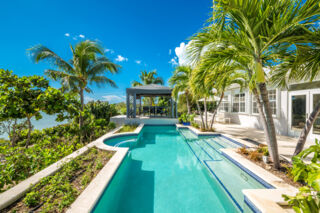 Tranquility Property Management
Tranquility Property Management offers a full range of services, including guest relations, maintenance, cleaning, pool service, repairs, and license and corporate management of properties.