The Best Turks and Caicos
Floating Bars
In the Turks and Caicos, one of the more unique attractions for visitors has become floating bars—or bars located in the middle of the sea—namely Captain Oak's Floating Tiki Bar and Noah's Ark. Both establishments are accessible by a short boat trip or jet ski ride off the coast of Providenciales and will certainly provide a fun and unforgettable day on the water.
Captain Oak's Floating Tiki Bar
Captain Oak's Floating Tiki bar is located just off the serene shores of Long Bay Beach. In fact, part of what makes this bar so unique is its location. Long Bay Beach is known for its shallow water, allowing visitors to walk far out to sea before they even reach depths of 5 feet. At Captain Oak's, although the bar space can easily become packed, it makes up for the lack of bar space with the surrounding ocean space. A quick climb down the bar's ladder will lead right to the crystal-clear waters for which the Turks and Caicos are known. The water space in front of the bar is also cordoned off with buoys to ensure that swimmers are safely protected from any passing boats or jet skis. The floating bar offers seating around the bar for guests, and for those who would rather stay on their own boats, Captain Oak's also offers "curbside" service.
The drinks menu at Captain Oak's ranges from top-shelf liquor to locally brewed beers. And for guests feeling hungry, Captain Oak's offers food as well. The bar's regular menu of grilled foods includes juicy burgers, tasty shrimp and beef kebabs, buttered grilled corn, and when in season, grilled lobster tails. On occasion, the establishment also serves locally caught grilled fish. Captain Oak's also plays music for guests, setting the mood for a good time out on the water.
Captain Oak's Tiki Bar is open daily from 12:00 PM to 6:00 PM, usually allowing enough time for guests to catch the sunset and begin their journey back to shore before it gets too dark. There is also a water taxi service available for guests who may not have access to a boat, which offers round-trip service.
Noah's Ark
Off the coast of Half Moon Bay lagoon and Bird Cay is a floating bar known as Noah's Ark. This establishment is located in a deeper part of the water than Captain Oak's Tiki Bar, and as such can require having to hop from boat to boat in order to reach the bar—but the final destination is worth the journey. This floating bar features a large dance floor, as well as seating along the perimeter of the space. Noah's Ark also offers bottle service on board, serving some of the best champagne one can find on island. Most drinks are available at the bar, with Noah's Ark offering everything from beers to popular cocktails.
Noah's Ark also serves a variety of food, including conch salad—a popular option at the bar. There is also a grill on board, serving hot and fresh food on a regular basis. But a big reason for the bar's popularity is its live DJs on the weekends, with guests being treated to music from all genres.
For visitors looking for a unique (and spacious) venue for a birthday party, wedding, or other event, Noah's Ark is also available for rentals.
Noah's Ark is open daily from 10 AM until sunset, and the bar offers a water taxi service. The water taxi picks up guests from the Blue Haven Marina, and guests are met with a welcome drink once on board.
For the water taxi services on both Noah's Ark and Captain Oak's Tiki Bar, reservations must be made in advance. However, for visitors using their own means of transportation, reservations are not necessary.
Floating Bars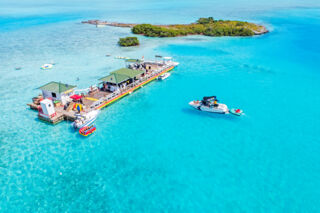 Noah's Ark is a popular floating bar, located on the incredible turquoise waters of the Princess Alexandra National Park near Half Moon Bay lagoon.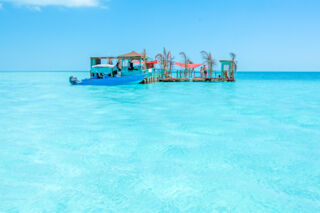 Captain Oak's Tiki Bar is a floating bar, located on the picturesque turquoise waters off Long Bay Beach on Providenciales. Visit this scenic and fun spot via a water taxi, jet ski, or boat charter.