North Caicos & Middle Caicos
Taxis & Tours
As is the case with all islands in the Turks and Caicos, there's no public transport on North Caicos and Middle Caicos. The transport options are limited to rental cars and taxis. Taxis cannot generally be found waiting at any location on both islands, and as such it's necessary to reserve in advance.
Due to their limited populations, there are only a few taxis on North Caicos and Middle Caicos, and these are based on North Caicos.
A road causeway connects the two islands, so it's possible to arrange taxi service on either island, yet be aware that there may be an additional cost for pickups on Middle Caicos due to the 25-minute transit time to cross over.
The islands of North Caicos and Middle Caicos are a nature lover's paradise, with untouched beaches, rugged cliff coastlines, and impressive Karst cave and sinkhole features. Many of these fascinating sights are difficult to find, and a knowledgeable guide will make it easy to get to the sights you'd like to see.
Taxis throughout the Turks and Caicos are typically larger passenger vans such as the Ford E-Series or Chevrolet Express vans, which can carry about ten passengers with ample luggage.
Reservations and Bookings
There's typically only one spot on North Caicos and Middle Caicos where a taxi may be found waiting (and not always), and that's Bellefield Landing. This small marina is the landing point of the Caribbean Cruisin' passenger ferry that travels between Providenciales and North Caicos. Keep in mind that there are only typically 2-4 taxis operating on the two islands, and we highly advise reserving in advance to ensure availability.
Taxi fares tend to be high, largely due to the limited business on North Caicos and Middle Caicos.
Taxi Island Tours
Favorite attractions and stops include Wade's Green Plantation, a Loyalist cotton plantation, Flamingo Pond Overlook, the Cottage Pond blue hole, Conch Bar Caves, the vibrant turquoise Bottle Creek Lagoon, and the majestic Mudjin Harbour coastline.
There are some great beaches to discover as well. Sandy Point Beach, Whitby Beach, Horsestable Beach and Greenwich Creek, Bambarra Beach, and Wild Cow Run are all amazing.
Island tours typically stop at one of the small local restaurants for lunch, where some of the best authentic Turk and Caicos cuisine is served. Classic dishes include freshly caught fish with peas n' rice, sides of locally grown vegetables and greens, and homemade breads and cakes.
When visiting North Caicos and Middle Caicos on a day trip from Providenciales, one advantage of taking a guided tour is that your driver is very likely to get you back to the dock in time for the ferry!
Taxis on North and Middle Caicos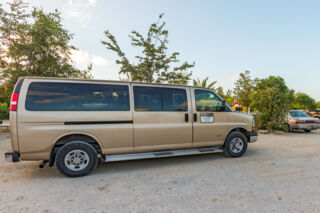 Headed by well-known island personality Mac Campbell, M and M Tours offers knowledgeable and friendly taxi and island tour services on the islands of North Caicos and Middle Caicos. Island tours are custom according to guest requirements, and may include sights such as Wade's Green Plantation, Cottage Pond, Mudjin Harbour, secluded beaches, Flamingo Pond Overlook, and Conch Bar Caves.