Travel Pre-Authorization
TCI Assured
Turks and Caicos is open for tourism. There's no quarantine on arrival.
All travelers must obtain travel authorization via the TCI Assured Portal.
All travelers to the Turks and Caicos are required to obtain pre-travel authorization via the TCI Assured portal. Persons without authorization will not be permitted to board a flight to the Turks and Caicos.
What is TCI Assured?
TCI Assured is an online portal where all international travelers (both visitors and residents) will be required to obtain certification before traveling to the Turks and Caicos.
TCI Assured is also the name for the mandatory quality assurance scheme for hotels, villas, restaurants, and transportation vehicles. All businesses must be TCI Assured and display the certification sticker.
The TCI Assured pre-authorization portal will require travelers to submit the following information:
All visitors 16 years of age and over must be fully-vaccinated (see below for details). This is in addition to all other requirements
A negative COVID-19 test result (see below for acceptable test types). The test must be taken within 3 days prior to travel to the TCI. Children under the age of 10 are excluded from this requirement.
Insurance which covers COVID-19 medical costs and full hospitalization, doctors' visits, prescriptions and air ambulance. Visitors are fully responsible for the cost of quarantine in the event they test positive during their stay.
A completed online health screening questionnaire.
If you are a resident of the Turks and Caicos, see the updated entry requirements at the bottom of this page.
Once uploaded, the documents will be verified and certification issued.
For details on normal visa and passport requirements, see Passports and Visas.
What does fully-vaccinated mean?
Fully-vaccinated means 14 days after receiving the second dose of an approved vaccine (Pfizer/BioNTech, Moderna, AstraZeneca, Comirnaty, Spikevax, Vaxzevria or Johnson and Johnson/Janssen). In the case of the Johnson and Johnson/Janssen vaccine, this is 14 days after receipt of the single dose.
You must have received your second dose (or single dose in the case of Johnson and Johnson) at least 14 days prior to arrival or entry will be denied.
Proof of Vaccination
Proof of vaccination is either a digital or paper record uploaded to the TCI Assured Portal. Acceptable forms are:
E-certificate/digital certificate (such as those from CVS, Walgreens, or the NHS).
Certification issued by a doctor or government entity.
Vaccination cards/certificates accepted by national authorities.
A letter signed by a medical professional (physician or registered nurse) on official letterhead with contact details. Doctor's registration or license numer should be included with details of the first and second dose (date, country and vaccine you received).
Authorized government entity record or printed record from an electronic vaccination database.
Exemptions to Mandatory Vaccination
The following persons are excempt from requiring a vaccine:
Visitors under the age 16 (visitors age 10-15 must still provide a negative COVID-19 test, along with all other travelers).
Visitors who are not able to take a COVID-19 vaccine due to medical reasons. However, written and signed proof from a medical professional clearly stating that they are medically exempted from taking the vaccine must be submitted to the online TCI Assured Portal. The reason must be clearly stated and will be reviewed by the Turks and Caicos Ministry of Health. If an exemption is granted to the individual, note that these persons will still be required to provide a negative COVID-19 test.
Crew members of a cargo/commercial aircraft or cargo ship arriving for work and expected to remain for less than 24 hours.
Crew members of air ambulances, which includes any medical personnel on board.
Persons offering to provide emergency aid in times of crisis.
Persons who have written permission from the Chief Medical Officer.
Persons who are in-transit at the airport, or for purposes of connecting flights.
Please note that there are no exemptions to the vaccination requirement for religious reasons.
Details on the COVID-19 Test Required for Entry
You need a COVID-19 test to enter the Turks and Caicos. You must take the test no more than 3 days prior to arrival in the islands. Acceptable test types are:
Reverse Transcription Polymerase Chain Reaction tests (RT-PCR).
Nucleic Acid Amplification tests (NAA).
RNA or molecular tests.
Antigen tests completed via nasopharyngeal swab.
The laboratory which processes your test must be accredited. The certificate from the laboratory which conducted the test should include the following:
Name (must be same on the TCI Assured application and test result)
Date of birth (must be same on the TCI Assured application and test result)
Laboratory name and contact details
Indication of laboratory credentials (CLIA, ISO 15189)
Date and time of sample collection
Type of test
Type of sample
Test result
Notes:
For PCR tests: Only results from oropharyngeal and nasopharyngeal samples are accepted.
For Antigen tests: Only results from nasopharyngeal samples are accepted.
Self-administered home tests are not accepted.
Antibody tests are not accepted.
Details on the Required Travel Insurance
Important: The names of these companies are provided for your convenience and are not endorsed or approved by Visit Turks and Caicos Islands or the Government of the Turks and Caicos Islands. If you have any questions about the validity of a service/insurance offering for entry into the Turks and Caicos, you are advised to contact the TCI Assured team at authorisation@turksandcaicostourism.com.
You must have travel insurance which covers COVID-19 medical costs and full hospitalization, doctors' visits, prescriptions, and air ambulance. The following are TCI Assured suggested insurance providers:
Travelex
Seven Corners
TripMate
Aura
HTH World Wide
Allianz Global Assistance
Generali Insurance
Global Rescue
HDI Global
Travel Guard
Travel Insured International
Trawick
Arch RoamRight
Apex Travel Limited
Questions?
For any questions, please use the following contacts:
Call +1 (649) 232-7233
Call +1 (649) 232-5900 (alternate)
Calls are answered every day between 8 AM and 6 PM Turks and Caicos Standard Time (same as EST or New York).
Who needs to complete this?
Every person traveling to the Turks and Caicos, regardless of age, nationality, or residence status, will be required to obtain a TCI Assured certification before travel.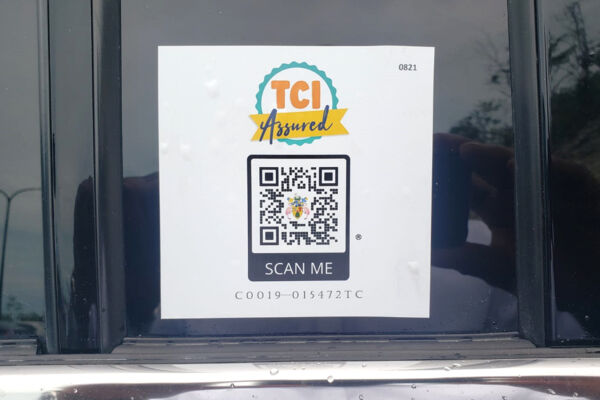 When must this be completed?
Information should be uploaded at least 24 hours prior to travel, however shorter times can be accommodated.
How long does this take?
Authorization takes between 15 minutes and 24 hours. If the application is incomplete, it may take longer.
What if I don't obtain the TCI Assured authorization?
Your airline will refuse to allow you to board your flight.
What if my authorization expires before I arrive, such as due to flight delays?
You will be denied entry if your travel authorization has expired, such as due to flight delays. Previously, exceptions were made but this is no longer the case. If your travel authorization has expired, or will expire by the time you land in the Turks and Caicos, you must obtain a new travel authorization (and new COVID-19 test).
What are the face mask requirements?
The mask mandate was due to expire on 30 June 2021, but has been extended. Masks are required to be worn in all public spaces. Some exceptions exist, such as individuals (or persons from the same group) together on the beach.
Masks will be required to enter restaurants but can be removed once seated.
Will travelers be tested upon arrival?
Temperature checks and screening will be conducted. Travelers may be subject to COVID-19 testing upon arrival in spot checks.
What happens if a visitor tests positive for COVID-19 during their stay?
All visitors must also have COVID-19 specific travel insurance that covers in country medical treatment and repatriation/medivac (if necessary).
What happens if I come into contact with someone who tests positive for COVID-19?
You will be advised by the Ministry of Health as to what you will be required to do.
Can I travel to the other islands from Providenciales?
On 2 November 2020, the ban on non-essential interisland travel was lifted. You can travel without restrictions between the islands (apart from temperature screenings).
What should I bring when I visit?
Visitors should bring a reusable face mask and hand sanitizer.
Testing Requirement Exemption for Some Vaccinated Residents
Some fully-vaccinated residents (not tourists) will not be required to take and upload the COVID-19 test to the TCI Assured portal. All persons, including fully-vaccinated persons, must still obtain the TCI Assured travel authorization.
To benefit from this exemption on testing, a resident must:
Have taken the COVID-19 vaccine in the Turks and Caicos Islands.
Have taken both required doses of the vaccine.
Have taken the second dose at least two weeks prior to travel.
Be on the Government's register of COVID-19 vaccinated persons.
This is applicable to residents only. Tourists and visitors must submit a negative COVID-19 test regardless of their vaccination status.
If a resident does not meet all 4 points above, they are not eligible to be exempted from obtaining a COVID-19 test prior to entry.
Last reviewed by an editor on 14 September 2021.