Turks and Caicos
Interior Design, Décor, & Furnishings
The final step in completing your home in paradise is furniture and décor. Due to the greatly expanding luxury residential market, Providenciales is now home to several interior design studios, which cater to projects large and small, and everything from luxury villas to commercial properties. Local designers will work with you through the complete process from inception to installation.
Before settling on an agency, you'll want to see examples of their work. Most local designers maintain a portfolio of their works, and many have been published in international magazines as well.
Turks and Caicos Designs
If you're looking for some authentic Turks and Caicos art or décor to finish your home, there are many inspiring options to choose from.
A great place to start your search is at the shopping plazas in central Grace Bay, at complexes such as the Regent Village and the Saltmills Plaza. Here you'll find design studios, art galleries, and furnishing stores.
A great final touch to your project is unique Turks and Caicos art. Several local artists have gained popularity for their designs and work, which ranges from original paintings, sculptures, photo prints on various medias, baskets, and print pattern pillows and throws.
The Turks and Caicos features so many spectacular beaches and landscapes, and a great choice to complete the room is a fine art print. Face-mounted acrylic prints, which are high-quality photo prints laminated between crystal-clear acrylic and a backer, are very popular and provide a brilliant look. Prints made directly onto aluminum are also a favorite, and offer a simple and elegant look.
Importing Furniture and Décor
Many residents in the Turks and Caicos choose to import furnishings, décor, and home fittings from the United States, as opposed to purchasing locally.
The import process isn't difficult, and typically takes 3-6 weeks from ordering until pickup in the Turks and Caicos. The most cost-effective shipping method is by sea, and is available both directly through the freight lines and from freight and mail forwarders.
Providenciales now has many freight forwarders and customs brokerage services, which consolidate packages received in the US into shipping container loads, import them into the Turks and Caicos, and clear the cargo for the convenience of customers.
Shipping rates are typically based on volume, with rates in the $3-10 per cubic foot range, depending on the freight forward and shipment size.
Several of the larger retail stores on Providenciales are able to make special orders from large US furniture dealers such as Coaster and Wayfair.
Customs Duty and Clearing
Most goods imported into the Turks and Caicos are subject to a customs duty tax, which is usually around 30% of value. On top of this, a tax on the freight cost is also applied.
Customs clearing in some cases may be done by the person importing the items, or is available through the shipper or freight forwarder at additional cost. For small shipments from a single source, the customs clearance cost is usually $15-20, in addition to the duty charge.
Local Businesses
R.A. Shaw Designs is an award-winning single-source architecture and contracting firm based in Providenciales, Turks and Caicos. The agency's portfolio of work includes an impressive collection of luxury villas and residences.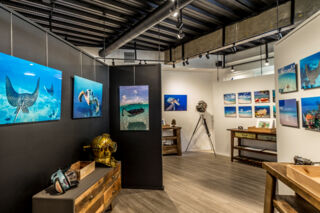 Brilliant Studios Gallery
Explore exquisite fine art prints at the Brilliant Studios Gallery at the Saltmills Plaza in Grace Bay. Brilliant Studios is an award-winning and long-established boutique wedding and portrait studio in the Turks and Caicos, and their new gallery reflects the passion they have in capturing the incredible vistas of the Turks and Caicos.