Turks and Caicos
Construction Materials & Suppliers
Providenciales is the undeniable center of construction in the Turks and Caicos, and is home to the vast majority of suppliers and contractors. Of the islands in the Turks and Caicos, freight import costs are the least expensive, as nearly all cargo that enters the Turks and Caicos lands on the island at South Dock, and is then distributed by smaller vessels to our other islands.
Grand Turk supports some small hardware stores, yet in-stock supplies are limited.
Generally, when building on our outer islands, the logistics and importation of building supplies and equipment from Providenciales (or Provo as it's often called) is a significant consideration. Small barges and vessels transport cargo between islands, which adds cost and delay.
Buy Locally, or Import?
A critical decision to make prior to building is whether to bulk import building supplies, or to arrange purchase through a local business. There are several considerations.
Cost is of course foremost. Due to the additional efficiencies of bulk importation and the large dealer discounts, it's difficult to beat the price of heavy materials such as lumber, especially with the project discounts that local suppliers are often willing to give. For smaller items and fixtures, it's possible to save 25% or more if items are imported by the container.
It often makes sense to discuss project discounts with local suppliers prior to building, as local shops are often willing to give project discounts, which sometimes can be more than 20% off posted store prices.
Building Materials Available in the Turks and Caicos
Bulk Sand, Aggregates, and Concrete Blocks
Construction sand is readily available in the Turks and Caicos, and is often sold by the cubic yard, or the dump truck load (usually 12-14 cubic yards).
Imported and washed 'black' sand is the common choice for higher-quality construction. Local white sand, largely from coastal sources, is also available at a lower cost than black sand, yet has poorer properties.
Several screen sizes of imported construction aggregates and gravel are regularly sold on Providenciales, typically by the yard or ton. ¼" 'pea gravel' and ¾" concrete gravel are the most common grades. Locally sourced gravel, a by-product of limestone 'quarry' screening, is available, yet is soft and not recommended for concrete use.
Concrete blocks are the favored core building method in the Turks and Caicos, and several businesses import and sell blocks. Most aggregate blocks are either 8" or 6", and are often imported from the Dominican Republic. The price per 8" block is around $2.50 (2023).
Concrete
Providenciales has three concrete companies. All offer both ready mix and mix on-site volumetric trucks, as well as concrete pump trucks.
The price is per yard, with costs of around $250 for 3,500 PSI concrete (2023). Varying grades (psi) of concrete are offered, yet prices do not tend to fluctuate greatly across the various psi grades of non-specialty concrete.
Steel Reinforcing and Rebar
Common ridged deformed rebar is stocked locally in sizes ranging from #3 to #8 (3/8" to 1"). ¼" smooth rebar and various types of ladder and block reinforcing are also available. Local rebar is usually available in 20' lengths, and by the piece or per bundle. Sizes not commonly sold can be ordered.
Local suppliers generally only stock common 'black' uncoated rebar. Epoxy-coated, corrosion-resistant alloys, and galvanized rebar can be sourced, yet will be a special order, which may take months to arrive.
Some of the local steel rebar suppliers are happy to do the initial cutting, forming, and tying of sections at additional cost, which can save valuable time on the worksite.
Lumber
Providenciales has two local hardware stores that maintain large indoor lumberyards, and the selection of stock is quite wide. Often stocked is the common dimensional sizes in pine and spruce, both pressure-treated and non-pressure-treated, as well as plywood of many different types, tongue and groove in several types, and more.
A small selection of rough-cut RWL hardwoods is also available. The local selection of mid-cost hardwoods and finish grade woods, such as poplar, beech, and oak, is often more limited than expensive tropical hardwood types such as ipe or mahogany.
Windows and Doors
A decent selection of low to mid-quality doors and windows are stocked in stores on Provo, yet the general practice when building is to special order or independently import exactly what's needed for a specific project.
It's best to consider storm and impact-rated windows, and ratings for solar heat gain, U-factor, and air leakage (important for hurricane resistance). The added cost of the better-rated products is often worthwhile.
Tiles and Flooring
Ceramic and porcelain tiles are the most common flooring choice in the Turks and Caicos, and when properly installed, offer decades of life.
The selection on Provo is generally wide. Both large hardware stores have tile showrooms with extensive stock, and there are several smaller specialty stone and tile suppliers as well.
Wood flooring, including board and panel varieties, is not typically stocked in the Turks and Caicos.
Roofing
A wide range of asphalt shingle and corrugated asphalt and metal roofing is stocked on Provo. The roofing products for luxury homes and larger projects are typically ordered special.
Metal standing seam is the most popular roofing choice for modern buildings in the Turks and Caicos due to durability, lifespan, and hurricane resistance, and the local roofers often arrange the importation of materials.
Clay, ceramic, and concrete tile roofs are also found locally, yet supplies are generally not stocked, and standing seam is gaining popularity due to its better properties.
Steel, Stainless Steel, and Aluminum Fabrication
Fabrication of both structural framework and finish grade metal gates, railings, and supports is available locally, in steel, various alloys of stainless steel, and aluminum.
Local machine and fabrication shops often have a waiting list, so it's best to begin working with them well in advance of when the work is due to be installed.
Landscaping
Sunshine Nursery in Grace Bay is the primary supplier of trees and plants, and maintains a wide collection of vegetation for sale, including mature palms of several varieties.
Screened topsoil is also available by the dump truck load, yet prices vary considerably depending on availability, ranging from about $600 to $2,000 per load.
Building Material Suppliers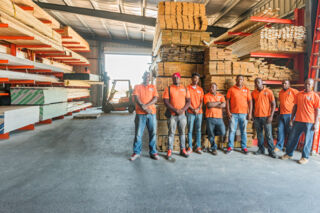 KB Home Center offers a complete selection of building materials, supplies, fittings and furnishings. Centrally located on Leeward Highway, Providenciales.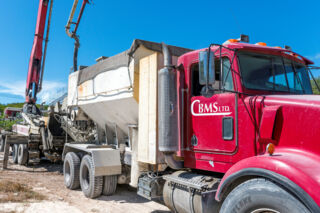 CBMS (Caribbean Building Materials and Services Ltd.) is the primary supplier of concrete, cement, aggregates and sand in the Turks and Caicos, and also operates the largest fleet of heavy and specialized construction equipment. CBMS's range of services includes concrete supply, construction, heavy equipment rental and operation, and importation of heavy earthworks materials.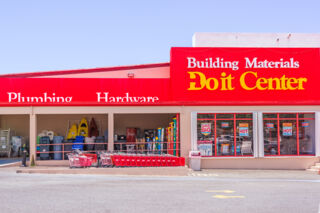 Building Materials Do It Center
Local Do It Center selling building supplies, tools, hardware, home décor and beach supplies.