Post Offices, Shipping and Courier Services
All of the main populated islands in the Turks and Caicos have a government-run post office. These offices hold mail for pickup, are able to send mail, and sell stamps. Local post offices do not offer the additional range of financial services found at many post offices in the USA, UK and Europe.
There is no general postal service delivery (and no mailboxes!) in the Turks and Caicos.
Turks and Caicos Postal Code
The postal code for the Turks and Caicos is TKCA 1ZZ.
In the past, the country never relied on a postal or zip code. BWI (British West Indies) was occasionally used in lieu of an actual code, but is rarely seen today.
The use of the UK format postcode TKCA 1ZZ is now becoming increasingly common.
Courier and Delivery Services
Courier services are available on Providenciales and Grand Turk.
Providenciales has local branches of FedEx, DHL, UPS and IBC (International Bonded Couriers). With the exception of IBC, delivery is typically offered and complimentary.
Grand Turk does not have local branches of any couriers, but delivery of FedEx shipments is provided.
For packages where customs duty is payable, a customs clearance fee (typically $15 to $25) is usually applied in addition to the duty amount.
Be advised that other international courier companies without local branches are often able to send packages to the Turks and Caicos. However, there may be extra fees applied by the local partner courier or airline that handles the final import into the country. If possible, consider using either FedEx, DHL or UPS.
Post Offices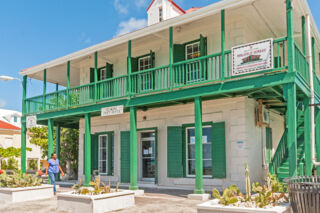 One of the beautiful old colonial buildings one Front Street in Cockburn Town, the Post Office is a great place to browse the colourful and interesting Turks and Caicos stamps, and of course send letters and packages!
Learn More
Found in the centre of the settlement of Kew on North Caicos, this is the main post office for the island.
Learn More
Providenciales Post Office
The main post office for the island of Providenciales. Temporarily located at the Town Centre Mall in the Downtown area.
Learn More
The main (and only) post office for the tiny island of Salt Cay. Located in Balfour Town and with walking distance of Deane's Dock and the airport.
Learn More
Main post office for South Caicos. Located in Cockburn Harbour.
Learn More
Shipping and Courier Services
Local office for DHL, located at the Town Center Mall on Providenciales.
Learn More
The main location for the Grand Turk branch of FedEx. Found in Churchill Plaza near the main entrance to the Airport.
Learn More
The Providenciales office for FedEx, located at Graceway Plaza, Leeward Highway.
Learn More
This is the main Turks and Caicos branch of UPS. The office is located on Old Airport Road in Downtown Providenciales. Shipments both into and out of the country are handled at this location.
Learn More