Turks and Caicos
Trademarks & Patents
As a British Overseas Territory, the laws of the UK generally apply to trademarks and patents in the Islands, and the Trademark Ordinance of 1981 (and later revisions) governs trademark services in Turks and Caicos. All trademark services and patent services are overseen by the local Financial Services Commission (FSC). The FSC appoints a Registrar of Trademarks and a Registrar of Patents to manage trademark and patent registrations.
Registering Trademarks
When you register a trademark in Turks and Caicos, it's best to use a local lawyer or agent to assist you. The government in Turks and Caicos allows residents to apply for trademarks directly as individuals. However, we do not recommend registering your own trademark and instead advise using a registered agent, as it is not a simple process and requires follow-ups and several visits. A knowledgeable agent can apply on your behalf and navigate all of the ins and outs of the trademark process, ensuring you are following all regulations.
Requirements
You will need to satisfy specific requirements to register a trademark or service, including the logo, word, or words you intend to use, the name of the company or individual applying for the mark, and the applicant's or predecessor's signature.
As mentioned above, it's recommend to use a local lawyer or agent to file the application on your behalf.
Trademark Duration
Once registered, a trademark lasts ten years from the original registration or the last renewal. You will receive an Expiry Notice two months before your trademark expires, asking if you want to renew the mark or let it lapse. The only documentation you need to renew your local trademark is a copy of the mark and an Authorisation of Agent (TM 1) form.
In Turks and Caicos, trademarks may be combined, transmitted, assigned, associated, or acquired in a series of trademarks.
Trademarks from Other Countries
Many people register their trademarks first in other countries and then also register in the Turks and Caicos. For example, if you have a trademark registered in the UK, you can pay a fee to register the trademark or service mark in the Islands, provided you have your UK registration papers. Trademarks registered in other countries may also be accepted depending on agreements with that country.
A trademark originating in the UK, EU, or internationally will be restricted to the class of trademark specified on the international certificate. The trademark will last as long as the original certificate, up to 10 years.
Classification of Trademarks
As with many other countries, the Turks and Caicos use the International Classification System for trademark registrations. A separate application is required for each class of goods or services (multi-class registrations are not allowed). There are 45 categories within the International Classification System. Classes 1 through 34 are for goods and classes 35 to 45 encompass services.
Trademark Requirements
To be eligible for registration in Turks and Caicos, a trademark or service must have the following elements:
The name of a company, individual, or firm must be presented in a unique or specific way.
The signature of the applicant or a previous individual associated with the business.
An invented word or words.
A word or words that do not directly describe the nature or quality of the goods or services and are not a geographical name or surname.
Any other recognizable mark. However, a name, signature, or word that doesn't fall within the above criteria will not be considered distinctive unless ordered by the court.
The fees to register your trademark will depend upon the filing fees, search fees, and agent fees. The filing fee for a trademark in Turks and Caicos is $375. Once your trademark is processed and registered, it will be published in the weekly Government Gazette. Anyone opposed to the mark will have one month from the date of publication to file an opposition.
Maintenace Fee
In contrast with many other countries with multi-year registrations, the Turks and Caicos have an annual registration fee for trademark rights. The trademark fee is payable to the Turks and Caicos government every January per Section 21 of the law. If you do not pay the annual fee, your trademark will no longer be in good standing. In this case, your intellectual rights under the trademark will not be enforceable.
Patents
If you have a new idea, creation, or process, you may apply for a patent in Turks and Caicos. As with the trademark process, patent applications are managed by the Financial Services Commission. The office appoints a Registrar of Patents to manage all patent registrations.
While trademarks and patents are both forms of intellectual property, patents do not have to be put into practice before registering. Instead, patents safeguard ideas, inventions, and scientific processes.
UK laws govern the patent application process in Turks and Caicos. First, you must register your patent with the United Kingdom Patent Office. Once you have a certificate from the UK Patent Office, you can apply for patent registration in Turks and Caicos.
The cost for filing a patent registration is $100. A patent registered in the UK (and, by extension, the Turks and Caicos) lasts 20 years. As with trademarks, we recommend hiring a lawyer or agent to represent you when filing the patent application.
Agents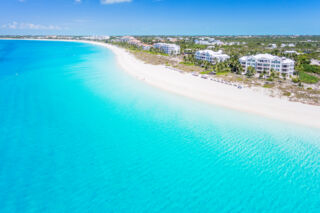 Marlin Limited is a corporate services provider, located in Grace Bay in the Turks and Caicos. Specialties include company formation and incorporation, business licenses, copyrights and trademarks, insurance, and financial and business consultation.