Turks and Caicos
Caribbean Cuisine Restaurants
It should come as no surprise that Providenciales is home to many restaurants that specialize in Caribbean cuisine. Whether you're in the mood for lobster or jerk chicken, each restaurant has their own, individualized take on island cuisine. From upscale dining to the more relaxed feel of a beachside cafe, our island offers it all, at any price point, and in any setting.
One common feature of Caribbean fare is that it can be quite simple—there's no need to sit down and be served, but rather it can be taken on-the-go to just about anywhere. From fish fingers to conch fritters and cracked conch, plenty of island dishes don't require silverware and make it easy to enjoy on-the-go—and you'll find a number of restaurants throughout the islands that offer their own variations of island finger food. Meanwhile, while it's mostly known for its Jamaican jerk dishes, Chinson's Grill Shack is also an ideal spot to grab a quick lunch to-go, with ready-made offerings that include Jamaican patties (similar to empañadas with fillings that include beef, chicken, and vegetables) made fresh daily. Located on Leeward Highway, the restaurant also offers seating and a relaxed atmosphere that captures the true essence of island life, if you decide to sit down and eat.
On the Beach
The true island experience happens right on the beach, and there's no shortage of beachfront restaurants in the Turks and Caicos. Bay Bistro, for example, is located right on Grace Bay Beach and offers an ideal option for events. Dine beneath the stars or inside under the fans at any time of day, with breakfast, brunch, lunch, and dinner all on offer, and delicious Caribbean options that include conch chowder and grilled jerk lamb. You can also head to Five Cays, where you'll find restaurants like Bugaloo's and Omar's Beach Hunt, two island staples found right on the water with menus that offer a vast range of local and Caribbean cuisine.
Caribbean Fine Dining
For a more refined experience, Mango Reef offers up some of the island's best Caribbean cuisine. Open for lunch and dinner, Mango Reef sits right on the picturesque Turtle Cove Marina, adding to its island feel. Get started with some local conch and spicy shrimp cocktail, then choose from entrées that include lobster options, local snapper, and jerk chicken. You'll even find Dominican paella, featuring various fish and shellfish from our local waters. Mr. Grouper's is another seafood-centric restaurant known for its local dishes and tasty options such as coconut-encrusted grouper, best served with their famous rum punch. For a more local feel, Mr. Grouper offers excellent service and Caribbean flavors. Reservations are recommended for both.
Every resort here on Providenciales offers its own dining experience, all of which also feature Caribbean cuisine in its various forms. Whether you are enjoying a local Turks Head beer at Ocean Club West, a Pain Killer at Grace Bay Club's Infiniti Restaurant & Raw Bar, or Gully Wash at Sibonne's Bay Bistro, each resort's restaurant offers something specifically and uniquely Caribbean, even when it comes to their drinks. No matter where you dine, the influence of the Caribbean is close at hand.
Caribbean Cuisine Restaurants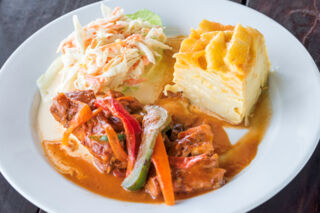 Mangrove Bay Restaurant is a Turks and Caicos cuisine establishment near Downtown on Providenciales, and specializes in fresh local seafood dishes. Enjoy island favorites such as whole steamed fish, pea n' rice, BBQ, souse, conch, lobster, and more.
Learn More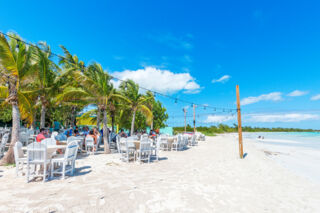 Bugaloo's Conch Crawl is one of the best-known restaurants in the Turks and Caicos. Located on picturesque Five Cays Beach, the restaurants features seafood and conch dishes, a great location, live music, and dining in a coconut grove, on the beach, and in the ocean.
Learn More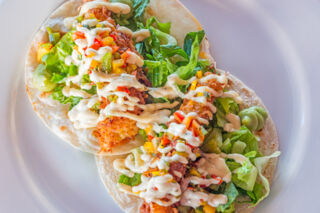 Located at Neptune Villas on the scenic Chalk Sound lagoon, Las Brisas Restaurant offers Caribbean Mediterranean fusion dining. Serves lunch and dinner.
Learn More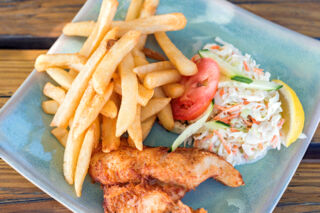 Chinson's Grill Shack is a popular restaurant on Leeward Highway, and serves a menu of Jamaican Jerk, Caribbean BBQ, and Chinese dishes.
Learn More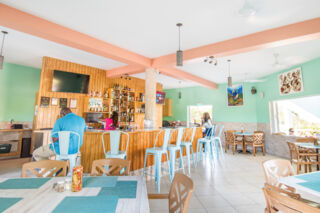 Mr. Grouper's is a seafood and island cuisine restaurant, located on Providenciales in the Bight community, and near Grace Bay. The restaurant serves a wide range of fish, lobster, and conch dishes, as well as sandwiches, burgers, salads, and more.
Learn More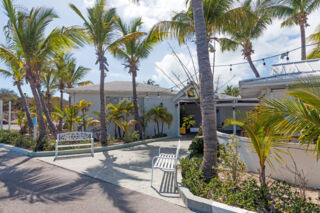 Mango Reef features waterfront fine dining at Turtle Cove on Providenciales. Explore a menu of seafood, Caribbean, and international favorites.
Learn More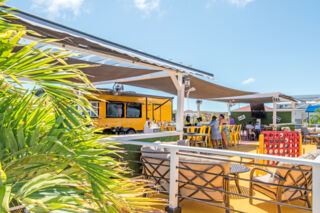 Crackpot Kitchen is a Turks and Caicos and Caribbean cuisine food truck restaurant site, located near Grace Bay on Leeward Highway. Discover a wide menu of locally caught seafood and Caribbean favorites.
Learn More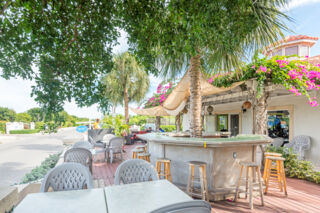 Simone's Bar and Grill is a Turks and Caicos and Caribbean cuisine restaurant located in Turtle Cove in central Providenciales. Enjoy fresh conch, fish, and lobster dishes in a casual and comfortable environment.
Learn More